Your search for Enrico La Pira in the auction
19th - 20th Century Paintings

Friday, 12 April 2013
Your personal art agent
You are interested in works by Enrico La Pira?
We are happy to inform you, if works by Enrico La Pira are to be auctioned in one of our upcoming auctions.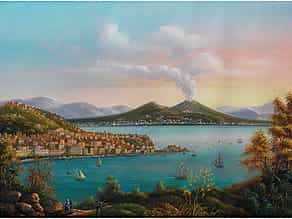 1582
Enrico La Pira,
Neapolitanischer Maler um 1845
GROSSE VEDUTE VON NEAPELTempera auf Papier.
46 x 60 cm.
Rechts unten signiert "La Pira".
Catalogue price € 2.500 - 3.500 Catalogue price€ 2.500 - 3.500 $ 2,750 - 3,850
£ 2,250 - 3,150
元 17,725 - 24,815
₽ 233,000 - 326,200
Ansicht von Norden über die Bucht von Neapel. Links die fein ausgeführte Stadtansicht, im Hintergrund Blick auf den rauchenden Vesuv. Im türkisblauen Meer verschiedene Schiffe und kleinere Boote. Der Himmel in Abendrot getaucht. Hinter Glas gerahmt. (892372)
Your personal art agent
You would like to be informed of upcoming auctions if a work by Enrico La Pira is offered? Activate your personal art agent here.