Ricerca Max Liebermann nell'asta
Max Liebermann

giovedì, 22 settembre 2005
Il Vostro Art Agent personale
Siete interessati alle opere di Max Liebermann?
Volentieri Vi teniamo aggiornati, quando le opere di Max Liebermann verranno offerte in una delle nostre prossime aste.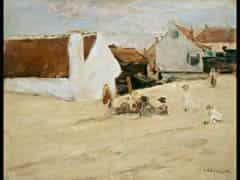 26
Max Liebermann,
1847-1935 Berlin
SPIELENDE KINDER IN EINEM DORF NOORDWIJK (1905)
Prezzo del catalogo € 120.000 - 140.000 Prezzo del catalogo€ 120.000 - 140.000 $ 124,800 - 145,600
£ 108,000 - 126,000
元 838,800 - 978,600
₽ 6,516,000 - 7,602,000
Öl auf Holz
38,6 x 49,8 cm
Bez. rechts unten: M Liebermann 1905
Werkverzeichnis Nr. 1905/20

PLAYING CHILDREN IN A VILLAGE NOORDWIJK (1905)

Oil on panel
38,6 x 49,8 cm
Sign. lower right: M Liebermann 1905
Catalogue raisonné n° 1905/20

Rückseitige Aufkleber und Notizen:
Ein Etikett des "Gemäldecabinett Schloß Haimhausen".

Provenienz:
Max Liebermann, Berlin (verkauft am 20.10.1905 an Paul Cassirer); Paul Cassirer, Berlin (1914, PC Nr. 775); Christie's, London (1983); Gemälde-Cabinett Unger, München (1984); Sammlung Hans- Georg Karg.

Ausstellungen:
Paul Cassirer, VIII. Jg., II. Ausstellung, Winter 1905/6, Nr. 21; Max Liebermann, Leipziger Kunstverein, 1907, Nr. 51 ("verkäuflich"); Max Liebermann, Neue Galerie, Wien 1937, Nr. 36 ("Spielende Kinder im Dorf, 1905"); Max Liebermann, 1847 - 1935, Kunsthalle Basel, 1937, Nr. 161; Albert Welti - Max Liebermann, Kunsthalle Bern, 1937, Nr. 163 ("Spielende Kinder im Dorf, Öl auf Holz, 39 x 50 cm, 1905"); Christie's, London 25.11.1983, Nr. 49; Blumen-Tiere-Menschen, Gemälde und Aquarelle des 19. und 20. Jahrhunderts. Das Gemälde-Cabinett Unger, München 23.5. - 23.9.1984, Farbtaf. S. 10; Kinder des 20. Jahrhunderts, Aschaffenburg-Koblenz 2000, Farbtaf. 74.

Literatur:
Hancke 1914 (1), S. 541 (Werkkatalog, dort "Holz, 39 x 50 cm"); Stuttmann 1961, Abb. Nr. 77 (dort mit der irrigen Datierung "1925" und dem Vermerk "Verbleib unbekannt"); Eberle 1996, Bd. 2, S. 651, Farbtaf. S. 652, WV 1905/20.

Bilder dieser Art machen veständlich, warum Max Liebermann zu Anfang des Jahrhunderts vielen als "Klassiker" galt. Das Sujet ist denkbar einfach, die Malerei ist frei und in ihrer differenzierten Sparsamkeit beeindruckend. Im Vordergrund hockt eine Gruppe spielender Kinder im Sand der Dünen, die das Dorf von der See trennen. Im Hintergrund liegen die schlichten, weißgekalkten Häuser mit ihren roten Ziegeldächern. Die dunkel gekleideten Kinder der Einheimischen mischen sich mit den hell angezogenen der Sommergäste. Das ist alles - obwohl man darüber viel erzählen könnte. Doch nicht bei Max Liebermann. Hier gibt es keine Geschichten, keine Anekdoten, eben nichts Besonderes. Das Verhältnis der Einheimischen und der Fremden zueinander ist ein malerisches. Eben deshalb handelt es sich dabei um ein großartiges Bild. (5906055)
This object has been individually compared to the information in the Art Loss Register data bank and is not registered there as stolen or missing.
Il Vostro Art Agent personale
Volete essere informati quando nelle nostre prossime aste un'opera di Max Liebermann viene offerta? Attivate qui il Vostro Art Agent personale.