Ricerca Theodor Alexander nell'asta
Aste giugno parte II.

sabato, 26 giugno 2004
Il Vostro Art Agent personale
Siete interessati alle opere di Theodor Alexander?
Volentieri Vi teniamo aggiornati, quando le opere di Theodor Alexander verranno offerte in una delle nostre prossime aste.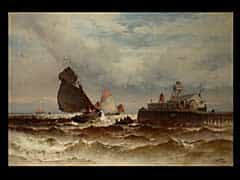 1207
Theodor Alexander Weber 1838 Leipzig - 1907 Paris
HAFENMOLE BEI OSTENDE Segelschiffe auf wogender See nahe der Kaimauer des Hafens mit Leuchtturm und Wärtergebäude. Naturalistisch wiedergegebene Meereswogen und bewegter Wolkenhimmel. Öl/Lwd. 63 x 91 cm. Rechts unten sign. (540089)
Prezzo del catalogo € 3.000 - 3.600 Prezzo del catalogo€ 3.000 - 3.600 $ 3,120 - 3,744
£ 2,700 - 3,240
元 20,970 - 25,164
₽ 162,900 - 195,480
This object has been individually compared to the information in the Art Loss Register data bank and is not registered there as stolen or missing.
Il Vostro Art Agent personale
Volete essere informati quando nelle nostre prossime aste un'opera di Theodor Alexander viene offerta? Attivate qui il Vostro Art Agent personale.