Your search for Theodor Alexander in the auction
June Auction Part II.

Saturday, 26 June 2004
Your personal art agent
You are interested in works by Theodor Alexander?
We are happy to inform you, if works by Theodor Alexander are to be auctioned in one of our upcoming auctions.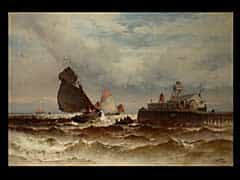 1207
Theodor Alexander Weber 1838 Leipzig - 1907 Paris
HAFENMOLE BEI OSTENDE Segelschiffe auf wogender See nahe der Kaimauer des Hafens mit Leuchtturm und Wärtergebäude. Naturalistisch wiedergegebene Meereswogen und bewegter Wolkenhimmel. Öl/Lwd. 63 x 91 cm. Rechts unten sign. (540089)
Catalogue price € 3.000 - 3.600 Catalogue price€ 3.000 - 3.600 $ 3,120 - 3,744
£ 2,700 - 3,240
元 20,970 - 25,164
₽ 162,900 - 195,480
This object has been individually compared to the information in the Art Loss Register data bank and is not registered there as stolen or missing.
Your personal art agent
You would like to be informed of upcoming auctions if a work by Theodor Alexander is offered? Activate your personal art agent here.