Your search for Albrecht Adam in the auction
19th - 20th Century Paintings

Tuesday, 19 June 2012
Your personal art agent
You are interested in works by Albrecht Adam?
We are happy to inform you, if works by Albrecht Adam are to be auctioned in one of our upcoming auctions.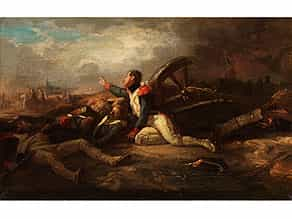 497
Albrecht Adam,
1786 Nördlingen - 1862 München
DER VERWUNDETE SOLDAT AN DER KANONE Öl auf Leinwand.
34 x 53 cm.
Verso Keilrahmenbeschriftungen sowie maschinenschriftlicher Text.
Catalogue price € 2.800 - 3.400 Catalogue price€ 2.800 - 3.400 $ 2,940 - 3,570
£ 2,520 - 3,060
元 20,524 - 24,922
₽ 184,940 - 224,570
Das Gemälde gibt eine Erinnerung an "Die Schlacht von Borodino" - entspre- chend dem Gemälde im Großherzoglichen Museum Weimar, das auch in der Selbstbiografie Adams, München 1876, erwähnt wurde. Das vorliegende Gemälde trägt auf dem Keilrahmen alte Aufschriften "Aus früherem Besitz von Kasimir Geibel und Kreuznach/ Weimar" mit Titelbezeichnung "Borodino 1819" - aus Weimar erworben 29.11.1922, mit Künstlerbezeichnung. (860386)
This object has been individually compared to the information in the Art Loss Register data bank and is not registered there as stolen or missing.
Your personal art agent
You would like to be informed of upcoming auctions if a work by Albrecht Adam is offered? Activate your personal art agent here.