Ricerca Albrecht Adam nell'asta
Dipinti XIX - XX secolo

martedì, 19 giugno 2012
Il Vostro Art Agent personale
Siete interessati alle opere di Albrecht Adam?
Volentieri Vi teniamo aggiornati, quando le opere di Albrecht Adam verranno offerte in una delle nostre prossime aste.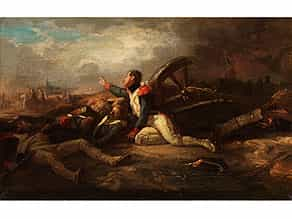 497
Albrecht Adam,
1786 Nördlingen - 1862 München
DER VERWUNDETE SOLDAT AN DER KANONE Öl auf Leinwand.
34 x 53 cm.
Verso Keilrahmenbeschriftungen sowie maschinenschriftlicher Text.
Prezzo del catalogo € 2.800 - 3.400 Prezzo del catalogo€ 2.800 - 3.400 $ 2,940 - 3,570
£ 2,520 - 3,060
元 20,524 - 24,922
₽ 184,940 - 224,570
Das Gemälde gibt eine Erinnerung an "Die Schlacht von Borodino" - entspre- chend dem Gemälde im Großherzoglichen Museum Weimar, das auch in der Selbstbiografie Adams, München 1876, erwähnt wurde. Das vorliegende Gemälde trägt auf dem Keilrahmen alte Aufschriften "Aus früherem Besitz von Kasimir Geibel und Kreuznach/ Weimar" mit Titelbezeichnung "Borodino 1819" - aus Weimar erworben 29.11.1922, mit Künstlerbezeichnung. (860386)
This object has been individually compared to the information in the Art Loss Register data bank and is not registered there as stolen or missing.
Il Vostro Art Agent personale
Volete essere informati quando nelle nostre prossime aste un'opera di Albrecht Adam viene offerta? Attivate qui il Vostro Art Agent personale.