Your search for Jean Baptiste Pater in the auction
Old Master Paintings

Friday, 23 September 2005
Your personal art agent
You are interested in works by Jean Baptiste Pater?
We are happy to inform you, if works by Jean Baptiste Pater are to be auctioned in one of our upcoming auctions.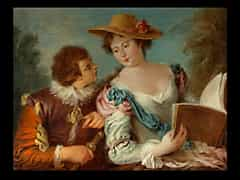 189
Jean-Baptiste Pater
1695 Valenciennes – 1736 Paris
DAS DUO
Catalogue price € 350.000 - 420.000 Catalogue price€ 350.000 - 420.000 $ 346,500 - 415,800
£ 315,000 - 378,000
元 2,457,000 - 2,948,400
₽ 21,245,000 - 25,494,000
54,5 x 70,5 cm. Öl auf Leinwand. Altdoubliert. Gerahmt.

Die Kleidung beider Figuren spiegelt die Liebe des Rokoko zum Lieblichen, Schmuckhaften, Ornamentalen wieder. Die tief dekolletierte, weiße Satinkorsage der jungen Frau ist mit türkisfarbenen und zart rosafarbenen Schleifen und Bänder verziert. Ihre blasse Haut wird durch einen Strohhut vor der Sonne geschützt. Der Jüngling dagegen bevorzugt kräftigere Farbtöne. Das Braun seiner Kleidung wiederholt sich im Braun seiner Haare. Lediglich seine weiße Halskrause lockert diese Braun in Braun Komposition auf. Die Zweisamkeit des Paares wird nochmals durch die ausschnitthaft dargestellte Parklandschaft betont. So verbinden die rechts und links zu sehenden Bäume das "Duo" zu einer Einheit. Der Reiz des an sich für Jean Baptiste Pater untypisch nahsichtigen Gemäldes ist der dem Betrachter verborgenen Dialog des Paares. Von den schmeichlerisch drängenden Avancen des Jünglings – links von ihr – in ihrer Lektüre der Notenblätter gestört, wendet die junge Frau leicht konsterniert ihren Kopf diesem zu. Mit devotem Gehabe versucht er sie eloquent von seinen ehrlichen Absichten zu überzeugen. Jedoch wird sein hingebungsvolle Mimik durch seine keck auffordernde Geste seiner linken Hand konterkariert. Diese zeigt nach unten auf den schimmernden Knauf seines Kavaliersdegens, der in dieser Szene als Symbol seines Begehrens verstanden werden kann.
This object has been individually compared to the information in the Art Loss Register data bank and is not registered there as stolen or missing.
Your personal art agent
You would like to be informed of upcoming auctions if a work by Jean Baptiste Pater is offered? Activate your personal art agent here.