Auction

Two collections of ivory objects
Your personal art agent
You would like to purchase a similar object?
We are happy to inform you, if similar works are to be auctioned in one of our upcoming auctions.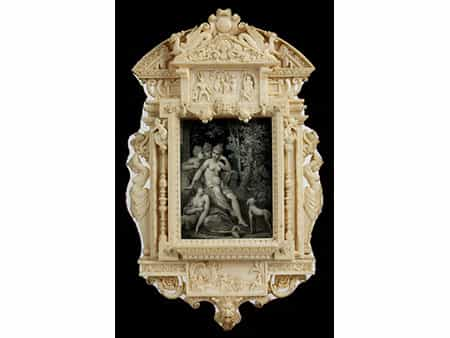 214
Museale äußerst fein geschnitzte Elfenbein-Aedicula mit Grisaille-Miniaturgemälde
Höhe des Elfenbeins: 20 cm.
Breite: 12 cm.
Rahmenaußenmaß: 30,5 x 25 cm.
Das Grisaille-Miniaturgemälde rechts unten
signiert "A. Topart".
Frankreich, zweite Hälfte 19. Jahrhundert.
Catalogue price € 6.500 - 7.500 Catalogue price€ 6.500 - 7.500 $ 7,150 - 8,250
£ 5,850 - 6,750
元 46,085 - 53,175
₽ 605,800 - 699,000
Aufbau im Stil des französischen Manierismus der Fontainebleauschule. Die Rahmung ein Sprenggiebel unter vorgesetztem Dreiecksgiebel, seitlich fein geschnitzte schlanke Säulen mit darauf sitzenden Putten. Die Seitenwangen in Gestalt von weiblichen Hermen, die als Karyatiden Voluten mit Früchten tragen.
Im oberen und unteren Rahmenmittelteil jeweils fein geschnittene Reliefbilder mit Szenen aus der mythologischen Dianalegende: Diana und Aktäon sowie die drei Grazien. Unten die Jagdgöttin mit ihren Gespielinnen. Das ebenfalls auf Elfenbein gemalte Grisaille-Miniaturbild zeigt die Jagdgöttin mit entblößtem Oberkörper zwischen ihren Gespielinnen an einer Estrade sitzend, ein Monddiadem im Haar. Rechts ein Jagdhund, dahinter zwischen Bäumen der sie belauschende Aktäon.
Die Rückseite, in der beidseitig verglasten Rahmung sichtbar zeigt, ebenfalls ein hochrechteckiges Reliefbild der Diana mit Bogen und Jagdhund. Darüber Kartusche mit vierzeiliger französischer Aufschrift einer poetischen Dichtung. Das reich mit Rollwerk, Voluten und Masken dekorierte Elfenbeinrähmchen hinter Glas eingefasst, in rotem Samt. Am Unterrand des ebonisierten zugehörigen Rahmens ein vergoldeter Jagdbogen. (1070592) (2) (11)


Very finely carved museum-quality ivory aedicula with miniature painting in grisaille
Height of ivory: 20 cm.
Width: 12 cm.
Exterior frame dimensions: 30.5 x 25 cm.
Grisaille miniature painting signed "A. Topart" lower right.
France, second half 19th century.
This object has been individually compared to the information in the Art Loss Register data bank and is not registered there as stolen or missing.
Your personal art agent
You would like to be informed of upcoming auctions if a similar work of art is offered? Activate your personal art agent here.