Aste

Dipinti XVI - XVIII secolo
Il Vostro Art Agent personale
Siete interessati alle opere di Tiburzio Passarotti?
Volentieri Vi teniamo aggiornati, quando le opere di Tiburzio Passarotti verranno offerte in una delle nostre prossime aste.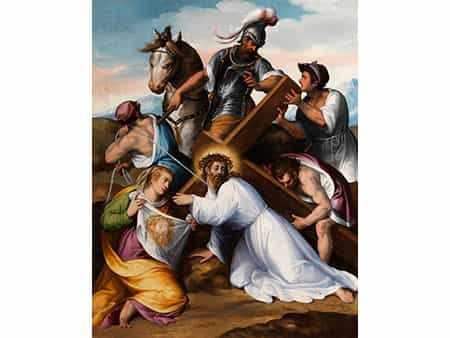 630
Tiburzio Passarotti,
um 1555 - 1612, zug.
KREUZTRAGUNG CHRISTI MIT DER HEILIGEN VERONIKAÖl auf Leinwand.
71 x 91 cm.
Prezzo del catalogo € 10.000 - 15.000 Prezzo del catalogo€ 10.000 - 15.000 $ 10,800 - 16,200
£ 9,000 - 13,500
元 77,100 - 115,650
₽ 991,700 - 1,487,550
Dargestellt ist die neutestamentliche Szene des Falls Christi unter dem Kreuz beim Gang nach Golgatha. Der zentralen Figur, die in weißem Kleid am Boden kniend niedergesunken ist, wird links die Gestalt der Heiligen Veronika gegenübergestellt. Diese nach rechts kniend wiedergegeben in dreifarbigem Kleid in Tizianrot, Grün und Goldgelb. Sie hält das Schweißtuch mit dem bereits abgedrückten Konterfei Christi in den Händen. Im Hintergrund erhöht auf einem Schimmel reitend ein geharnischter Soldat in Begleitung dreier weiterer Knechte. Der fernere Landschaftshintergrund ist bergig wiedergegeben. Die Wolken, ebenso wie die Farbgebung insgesamt sind in manieristischer Weise in eine stark vorgetragene Rosafarbigkeit getaucht. (991942)


Tiburzio Passarotti,
c. 1555 - 1612, attributed
Oil on canvas.
71 x 91 cm.
This object has been individually compared to the information in the Art Loss Register data bank and is not registered there as stolen or missing.
Il Vostro Art Agent personale
Volete essere informati quando nelle nostre prossime aste un'opera di Tiburzio Passarotti viene offerta? Attivate qui il Vostro Art Agent personale.