Il Vostro Art Agent personale
Siete interessati alle opere di Marianne von Werefkin?
Volentieri Vi teniamo aggiornati, quando le opere di Marianne von Werefkin verranno offerte in una delle nostre prossime aste.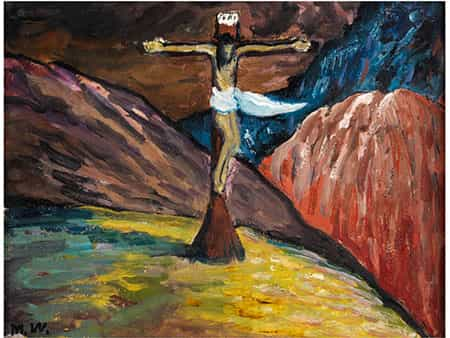 862
Marianne von Werefkin,
1860 Tula – 1938 Ascona
GOLGATHA, UM 1910 Öl und Tempera auf Karton.
19 x 24,1 cm.
Links unten monogrammiert.
Galerierahmen.
Prezzo del catalogo € 20.000 - 30.000 Prezzo del catalogo€ 20.000 - 30.000 $ 21,000 - 31,500
£ 18,000 - 27,000
元 153,600 - 230,400
₽ 2,038,800 - 3,058,200
Eindrucksvolle religiöse Szene aus der frühen Münchner Periode der Künstlerin. Marianne von Werefkin wurde 1886 in St. Petersburg Schülerin des bedeutenden russischen Realisten und Protagonisten der Gruppe der "Wanderer", Ilja Repin. Bereits in ihrer frühen Schaffenszeit wurde ihr für ihre Bildnisse im Stil eines atmosphärischen Naturalismus große Beachtung zuteil. Bekanntschaft mit ihrem späteren Lebensgefährten Alexej Jawlensky machte Werefkin im Jahr 1891, 1896 übersiedelten beide nach München in die Giselastraße 33. Eine fast zehnjährige Malpause folgte, da sich Werefkin in dieser Zeit auf die Förderung von Jawlenskys Talenten konzentrierte, sie befasste sich jedoch zeitgleich auch intensiv mit Untersuchungen zur Maltechnik sowie kunsttheoretischen Diskussionen. Erst gegen Ende der fast einjährigen großen Frankreichreise mit Jawlensky begann Werefkin 1907 wieder zu malen. In ihrem Werk formten nun Einflüsse des Symbolismus und Anregungen Ferdinand Hodlers, der "Nabis" und Edvard Munchs eine eigenwillige Synthese. Der gemeinsame Malsommer in Murnau 1908 und die produktive Zusammenarbeit in der "Neuen Künstlervereinigung München", die 1909 im Salon in der Giselastraße ins Leben gerufen worden waren, führten zu einem künstlerischen Werk, dessen großes Thema die menschliche Existenz und ihr Ausgeliefertsein an unsichtbare Kräfte innerer und äußerer Natur ist. Fast alle Bilder Werefkins zeigen Figuren, zum Teil in additiver Reihung, wobei sie die Einzige aus dem Umkreis des "Blauen Reiter" war, die konkret die menschliche Arbeitswelt und Fabrikarbeit thematisierte. Auch die Landschaft bildet in diesen Kompositionen einen spannungsvoll aufgeladenen "Schicksalsrahmen".
Nach Ausbruch des Ersten Weltkriegs zogen Werefkin und Jawlensky in die Schweiz, 1921 kam es in Ascona zur endgültigen Trennung. Dort lebte und arbeitete Werefkin unter prekären materiellen Bedingungen, doch integriert in die Künstlerkolonie des Monte Verità, bis zu ihrem Tod 1938.

Provenienz:
Geschenk der Künstlerin an Dr. Luciette Schwantes, Hamburg. (982051) (18)


Marianne von Werefkin
1860 Tula -1938 Ascona

GOLGATHA, around 1910

Oil and tempera on cardboard.
19 x 24.1 cm.
Signed with the monogram lower left.
Gallery frame.

Provenance:
Gift by the artist to Dr. Luciette Schwantes, Hamburg.
This object has been individually compared to the information in the Art Loss Register data bank and is not registered there as stolen or missing.
Il Vostro Art Agent personale
Volete essere informati quando nelle nostre prossime aste un'opera di Marianne von Werefkin viene offerta? Attivate qui il Vostro Art Agent personale.