Aste

Dipinti XIX - XX secolo
Il Vostro Art Agent personale
Siete interessati alle opere di Alfredo Tominz?
Volentieri Vi teniamo aggiornati, quando le opere di Alfredo Tominz verranno offerte in una delle nostre prossime aste.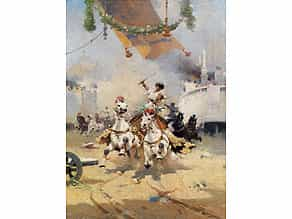 576
Alfredo Tominz,
1854 - 1936
DAS BIGA-RENNEN IN DER RÖMISCHEN ARENA Öl auf Leinwand.
77 x 56 cm.
Signiert und datiert "1904".
Prezzo del catalogo € 15.000 - 25.000 Prezzo del catalogo€ 15.000 - 25.000 $ 16,200 - 27,000
£ 13,500 - 22,500
元 111,900 - 186,500
₽ 1,256,400 - 2,094,000
Die antike römische Arena liegt im staubigen Dunst, im Zentrum zwei dem Betrachter entgegen rennende Schimmel, die eine Biga ziehen, darin ein jugendlicher, antik gekleideter Pferdelenker mit Peitsche und Lorbeerkranz, gefolgt von weiteren Gespannen. Links erhöhte Tribüne, rechts die Säule des Arena-Wendepunkts, im oberen Bildteil eine Fahne mit Blattfeston. Qualitätvolle Malerei, die das wilde Geschehen lebendig aufnimmt. (8514024)
This object has been individually compared to the information in the Art Loss Register data bank and is not registered there as stolen or missing.
Il Vostro Art Agent personale
Volete essere informati quando nelle nostre prossime aste un'opera di Alfredo Tominz viene offerta? Attivate qui il Vostro Art Agent personale.