Aste

Dipinti XVI - XVIII secolo
Il Vostro Art Agent personale
Siete interessati alle opere di Pierre-Antoine Demachy?
Volentieri Vi teniamo aggiornati, quando le opere di Pierre-Antoine Demachy verranno offerte in una delle nostre prossime aste.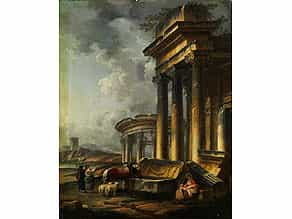 258
Pierre-Antoine Demachy,
1723 Paris - 1807
RÖMISCHE TEMPELRUINEN MIT FIGURENSTAFFAGE Öl auf Holz.
39 x 31 cm.
Unten mittig signiert.
Prezzo del catalogo € 7.000 - 8.000 Prezzo del catalogo€ 7.000 - 8.000 $ 7,630 - 8,720
£ 6,300 - 7,200
元 55,370 - 63,280
₽ 664,650 - 759,600
Hohe, Gebälk tragende Säulen eines ruinösen Tempels mit davor liegenden, großen Gebälkstücken und reli-efierten Quadern, die im Vordergrund einen Brunnen bilden, dahinter ein Rundtempel mit glatten Säulen und Kompositkapitellen. Nach hinten zieht sich eine hügelige Landschaft mit einem vierkantigen, mit Zinnen bewehrtem Turm. Im Vordergrund am Brunnen zwei Pferde, daneben zwei Schafe, auf einem Steinblock vor einem Säulenstumpf Mutter mit Kind, am linken Bildrand ein Paar.(831042)
This object has been individually compared to the information in the Art Loss Register data bank and is not registered there as stolen or missing.
Il Vostro Art Agent personale
Volete essere informati quando nelle nostre prossime aste un'opera di Pierre-Antoine Demachy viene offerta? Attivate qui il Vostro Art Agent personale.