Vente

Tableaux du XVI - XVIII siècle
Votre assistant d'art personnel
Vous êtes intéressé par des œuvres de Pierre-Antoine Demachy?
Nous vous informons volontiers si les œuvres d'art de Pierre-Antoine Demachy vendus dans une de nos prochaines vente aux enchères.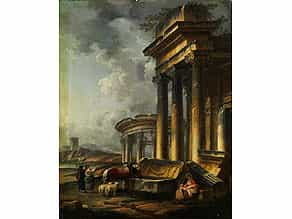 258
Pierre-Antoine Demachy,
1723 Paris - 1807
RÖMISCHE TEMPELRUINEN MIT FIGURENSTAFFAGE Öl auf Holz.
39 x 31 cm.
Unten mittig signiert.
Prix de catalogue € 7.000 - 8.000 Prix de catalogue€ 7.000 - 8.000 $ 7,350 - 8,400
£ 6,300 - 7,200
元 53,760 - 61,440
₽ 713,580 - 815,520
Hohe, Gebälk tragende Säulen eines ruinösen Tempels mit davor liegenden, großen Gebälkstücken und reli-efierten Quadern, die im Vordergrund einen Brunnen bilden, dahinter ein Rundtempel mit glatten Säulen und Kompositkapitellen. Nach hinten zieht sich eine hügelige Landschaft mit einem vierkantigen, mit Zinnen bewehrtem Turm. Im Vordergrund am Brunnen zwei Pferde, daneben zwei Schafe, auf einem Steinblock vor einem Säulenstumpf Mutter mit Kind, am linken Bildrand ein Paar.(831042)
This object has been individually compared to the information in the Art Loss Register data bank and is not registered there as stolen or missing.
Votre assistant d'art personnel
Vous voulez être informé quand dans nos prochaines ventes aux enchères une œuvre d'art de Pierre-Antoine Demachy sera proposée? Veuillez activer votre assistant d'art personnel.