Aste

Una collezione privata di oggetti di avorio
Il Vostro Art Agent personale
Volete acquistare un oggetto simile?
Volentieri Vi teniamo aggiornati, quando opere simili verranno offerte in una delle nostre prossime aste.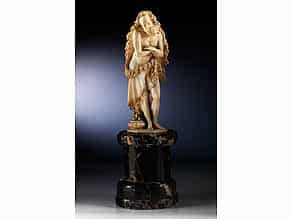 971
Elfenbeinfigur der Allegorie des Winters
Höhe der Figur: 26 cm.
Gesamthöhe mit dem runden, schwarz geäderten Marmorsockel: 42 cm.
Prezzo del catalogo € 8.000 - 12.000 Prezzo del catalogo€ 8.000 - 12.000 $ 8,400 - 12,600
£ 7,200 - 10,800
元 61,440 - 92,160
₽ 815,520 - 1,223,280
Der "Winter" in Gestalt eines halbnackten, bärtigen Mannes mit Fellumhang neben einem godronierten Feuerkessel auf achtseitiger Plinthe stehend wiedergegeben. Der Oberkörper leicht vorgeneigt, der lange Bart sowie die Fellzotteln seines Umhanges wie vom Wind bewegt, von links nach rechts auswehend. Die Arme an der Brust verschränkt. Fein ausgearbeitete Physiognomie und elegante Körperwiedergabe. Schöne Alterspatina. (8018626)
This object has been individually compared to the information in the Art Loss Register data bank and is not registered there as stolen or missing.
Il Vostro Art Agent personale
Volete essere informati quando nelle nostre prossime aste un'opera d'arte simile viene offerta? Attivate qui il Vostro Art Agent personale.