Vente

Une collection privée d'objets en ivoire
Votre assistant d'art personnel
Voulez-vous acheter un objet similaire?
Nous vous informons volontiers si des objets similaire vendus dans une de nos prochaines vente aux enchères.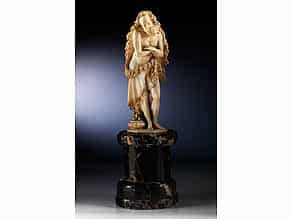 971
Elfenbeinfigur der Allegorie des Winters
Höhe der Figur: 26 cm.
Gesamthöhe mit dem runden, schwarz geäderten Marmorsockel: 42 cm.
Prix de catalogue € 8.000 - 12.000 Prix de catalogue€ 8.000 - 12.000 $ 8,400 - 12,600
£ 7,200 - 10,800
元 61,440 - 92,160
₽ 815,520 - 1,223,280
Der "Winter" in Gestalt eines halbnackten, bärtigen Mannes mit Fellumhang neben einem godronierten Feuerkessel auf achtseitiger Plinthe stehend wiedergegeben. Der Oberkörper leicht vorgeneigt, der lange Bart sowie die Fellzotteln seines Umhanges wie vom Wind bewegt, von links nach rechts auswehend. Die Arme an der Brust verschränkt. Fein ausgearbeitete Physiognomie und elegante Körperwiedergabe. Schöne Alterspatina. (8018626)
This object has been individually compared to the information in the Art Loss Register data bank and is not registered there as stolen or missing.
Votre assistant d'art personnel
Vous voulez être informé quand dans nos prochaines ventes aux enchères une œuvre d'art similaire sera proposée? Veuillez activer votre assistant d'art personnel.