Aste

Una collezione privata
Il Vostro Art Agent personale
Volete acquistare un oggetto simile?
Volentieri Vi teniamo aggiornati, quando opere simili verranno offerte in una delle nostre prossime aste.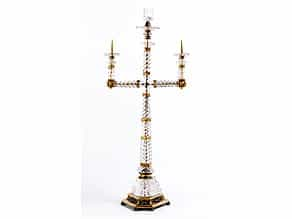 844
Äußerst seltener dreiflammiger Tischleuchter in Bergkristall und vergoldeter Bronze
Höhe: 70 cm.
Breite: 30,5 cm.
18./ 19. Jahrhundert.
Prezzo del catalogo € 10.000 - 12.000 Prezzo del catalogo€ 10.000 - 12.000 $ 10,500 - 12,600
£ 9,000 - 10,800
元 76,800 - 92,160
₽ 1,019,400 - 1,223,280
Der nach oben sich verjüngende, sechskantige Schaft aus fünf aneinander gefügten Stücken gebildet. Die Arme kantig, seitlich in Kreuzform gebildet und an den Enden senkrecht hochgeführt. Die Verbindungsmanschetten mit Zungenblattdekoration in feuervergoldeter Bronze. An den Armwinkeln würfelförmige Eckstücke mit Rosetten in gerahmten Quadraten. Der Schaft auf geschliffenem Nodus über dreiseitiger Kristallbasis, beschliffen mit seitlichen großen Phantasiemasken sowie weiblichen Harpyien mit Fischleibern an den Ecken. Der Kristallsockel auf einem feuervergoldeten Standsockel, dreiseitig, mit abgeschrägten Ecken zum Sechseck gebildet, auf gequetschten Kugelfüßen. In der Hohlkehle eingebrachte Rollwerkkartuschen. Kristall oder Bergkristall. Die oberste Tülle wohl erg. Die Glieder innen spiralig durchbohrt, erscheinen äußerlich als in sich gedreht. (8010434)


Absolutely rare three arm candelabra in quartz and gilded bronze
Height: 70 cm.
Width: 30.5 cm.
18th/19th century.
This object has been individually compared to the information in the Art Loss Register data bank and is not registered there as stolen or missing.
Il Vostro Art Agent personale
Volete essere informati quando nelle nostre prossime aste un'opera d'arte simile viene offerta? Attivate qui il Vostro Art Agent personale.