Ricerca Hercules Sanders nell'asta
Dipinti

venerdì, 27 marzo 2009
Il Vostro Art Agent personale
Siete interessati alle opere di Hercules Sanders?
Volentieri Vi teniamo aggiornati, quando le opere di Hercules Sanders verranno offerte in una delle nostre prossime aste.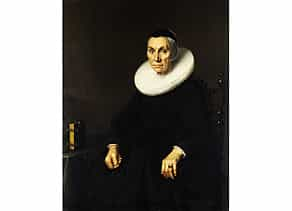 279
Herkules Sanders,
1606 Amsterdam - 1663
BILDNIS EINER ÄLTEREN DAME IN SCHWARZEM KLEID MIT HALSKRAUSE UND HÄUBCHEN Öl auf Leinwand. Doubliert.
114 x 90 cm.
Links seitlich signiert und mit Altersangabe
"Aetatis 67".
Prezzo del catalogo € 28.000 - 32.000 Prezzo del catalogo€ 28.000 - 32.000 $ 29,120 - 33,280
£ 25,200 - 28,800
元 195,720 - 223,680
₽ 1,520,400 - 1,737,600
In breitem ebonisiertem Flammleistenrahmen.
Auf einem Lehnstuhl mit gedrehter Armlehne nach links sitzend neben einem Tisch, darauf ein Gebetbuch, in der rechten Hand eine Brille.

Literatur:
Vgl. Walter Bernt: Die Niederländischen Maler und Zeichner des 17. Jahrhunderts. Bruckmann, München, Band III, Abb. 1099. (731901)
This object has been individually compared to the information in the Art Loss Register data bank and is not registered there as stolen or missing.
Il Vostro Art Agent personale
Volete essere informati quando nelle nostre prossime aste un'opera di Hercules Sanders viene offerta? Attivate qui il Vostro Art Agent personale.