Your search for Hercules Sanders in the auction
Paintings

Friday, 27 March 2009
Your personal art agent
You are interested in works by Hercules Sanders?
We are happy to inform you, if works by Hercules Sanders are to be auctioned in one of our upcoming auctions.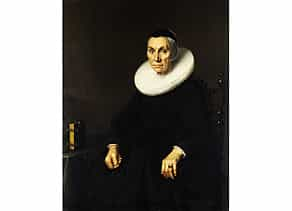 279
Herkules Sanders,
1606 Amsterdam - 1663
BILDNIS EINER ÄLTEREN DAME IN SCHWARZEM KLEID MIT HALSKRAUSE UND HÄUBCHEN Öl auf Leinwand. Doubliert.
114 x 90 cm.
Links seitlich signiert und mit Altersangabe
"Aetatis 67".
Catalogue price € 28.000 - 32.000 Catalogue price€ 28.000 - 32.000 $ 27,720 - 31,680
£ 25,200 - 28,800
元 196,560 - 224,640
₽ 1,699,600 - 1,942,400
In breitem ebonisiertem Flammleistenrahmen.
Auf einem Lehnstuhl mit gedrehter Armlehne nach links sitzend neben einem Tisch, darauf ein Gebetbuch, in der rechten Hand eine Brille.

Literatur:
Vgl. Walter Bernt: Die Niederländischen Maler und Zeichner des 17. Jahrhunderts. Bruckmann, München, Band III, Abb. 1099. (731901)
This object has been individually compared to the information in the Art Loss Register data bank and is not registered there as stolen or missing.
Your personal art agent
You would like to be informed of upcoming auctions if a work by Hercules Sanders is offered? Activate your personal art agent here.