Il Vostro Art Agent personale
Volete acquistare un oggetto simile?
Volentieri Vi teniamo aggiornati, quando opere simili verranno offerte in una delle nostre prossime aste.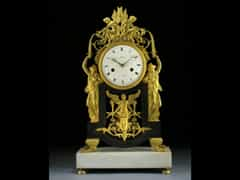 1490
KAMINUHR Signiert: "Robin à Paris"
WERK
Acht-Tage-Gehwerk. Pendel mit Fadenaufhängung. Halbstunden- und Stunden-Schlossscheibenschlagwerk auf Glocke.
FUNKTIONEN
Stunden und Minute
GEHÄUSE
Auf gequetschten Kugelfüßen stehender weißer Marmorsockel. Darüber die Uhrenhalterung auf Löwenklauenfüßen sowie seitlich Darstellungen von Nymphen, einen Pokal erhoben haltend, in den Wasser von zwei Engeln, als Bekrönung angebracht, gegossen wird. Unterhalb des Zifferblatts ein Fackeln tragender Engel. Durchbrochen gearbeitet.
ZIFFERBLATT
Emailzifferblatt. Stundenangabe mit römischen Ziffern, Minutenangabe mit arabischen Ziffern. Zeiger aus vergoldeter Bronze. Sign.: "Robin à Paris".
ZUSTAND
Reparaturbedürftig.
H.: 51 cm. B.: 29 cm. T.: 12 cm.
Frankreich, um 1800.
Literatur: Vgl. Tardy: Dictionnaire des horlogers français, Paris 1972, S. 562. (6309816)
Prezzo del catalogo € 5.600 - 6.700 Prezzo del catalogo€ 5.600 - 6.700 $ 5,880 - 7,035
£ 5,040 - 6,030
元 41,048 - 49,111
₽ 369,880 - 442,535
This object has been individually compared to the information in the Art Loss Register data bank and is not registered there as stolen or missing.
Il Vostro Art Agent personale
Volete essere informati quando nelle nostre prossime aste un'opera d'arte simile viene offerta? Attivate qui il Vostro Art Agent personale.