Ricerca Max Liebermann nell'asta
Max Liebermann

giovedì, 22 settembre 2005
Il Vostro Art Agent personale
Siete interessati alle opere di Max Liebermann?
Volentieri Vi teniamo aggiornati, quando le opere di Max Liebermann verranno offerte in una delle nostre prossime aste.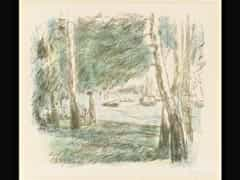 87
Max Liebermann,
1847-1935 Berlin
LANDSCHAFT AM WANNSEE MIT SEGELBOOTEN (1926)
Prezzo del catalogo € 2.800 - 3.400 Prezzo del catalogo€ 2.800 - 3.400 $ 2,912 - 3,536
£ 2,520 - 3,060
元 19,572 - 23,766
₽ 152,040 - 184,620
Farblithographie/festes Vélin.
27,6 x 30,7 cm.
Sign.

Werkverzeichnis: Achenbach Nr. 108 I. Probedruck, ohen die Schrift und von der Verwendung als Titelblatt des 1926 bei Bruno Cassira erschienen Mappenwerkes "Max Liebermann/Neuen Steinzeichnungen". Achenbach erwähnt nur zwei weitere Exemplare in der Sammlung Dr. Pollag, Zürich und im Kupferstichkabinett der Staatlichen Museen Preussischer Kulturbesitz Berlin West. Etwas gebräunt im Passepartout-Ausschnitt, Klebereste im oberen Rand.

Provenienz: Slg. Hans-Georg Karg. (5906084)
This object has been individually compared to the information in the Art Loss Register data bank and is not registered there as stolen or missing.
Il Vostro Art Agent personale
Volete essere informati quando nelle nostre prossime aste un'opera di Max Liebermann viene offerta? Attivate qui il Vostro Art Agent personale.