Votre recherche Max Liebermann dans la vente
Max Liebermann

jeudi, 22 septembre 2005
Votre assistant d'art personnel
Vous êtes intéressé par des œuvres de Max Liebermann?
Nous vous informons volontiers si les œuvres d'art de Max Liebermann vendus dans une de nos prochaines vente aux enchères.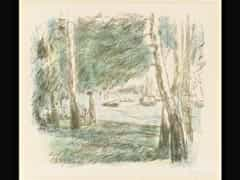 87
Max Liebermann,
1847-1935 Berlin
LANDSCHAFT AM WANNSEE MIT SEGELBOOTEN (1926)
Prix de catalogue € 2.800 - 3.400 Prix de catalogue€ 2.800 - 3.400 $ 2,912 - 3,536
£ 2,520 - 3,060
元 19,572 - 23,766
₽ 152,040 - 184,620
Farblithographie/festes Vélin.
27,6 x 30,7 cm.
Sign.

Werkverzeichnis: Achenbach Nr. 108 I. Probedruck, ohen die Schrift und von der Verwendung als Titelblatt des 1926 bei Bruno Cassira erschienen Mappenwerkes "Max Liebermann/Neuen Steinzeichnungen". Achenbach erwähnt nur zwei weitere Exemplare in der Sammlung Dr. Pollag, Zürich und im Kupferstichkabinett der Staatlichen Museen Preussischer Kulturbesitz Berlin West. Etwas gebräunt im Passepartout-Ausschnitt, Klebereste im oberen Rand.

Provenienz: Slg. Hans-Georg Karg. (5906084)
This object has been individually compared to the information in the Art Loss Register data bank and is not registered there as stolen or missing.
Votre assistant d'art personnel
Vous voulez être informé quand dans nos prochaines ventes aux enchères une œuvre d'art de Max Liebermann sera proposée? Veuillez activer votre assistant d'art personnel.