Ricerca Carl Christian Andersen nell'asta
Aste marzo parte I.

venerdì, 28 marzo 2003
Il Vostro Art Agent personale
Siete interessati alle opere di Carl Christian Andersen?
Volentieri Vi teniamo aggiornati, quando le opere di Carl Christian Andersen verranno offerte in una delle nostre prossime aste.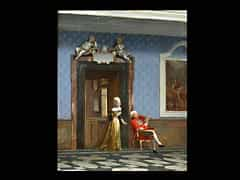 35
Carl Christian Andersen 1849 Kopenhagen - 1906 Hellerup
DIE ÜBERGABE DES BRIEFES In einem Schloss-Interieur tritt eine höfisch gekleidete Dame mit langem, gelben Seidenkleid aus einer Marmortüre und überreicht einem sitzenden Pagen einen Brief. Der Page ist in die Lektüre vertieft. Feine Interieurmalerei, der Bildhintergrund zeigt eine schimmernde, blaue Seidenbespannung der Wand über dem Marmortürrahmen. Figurengruppe in weissem Marmor, darüber Stuckhohlkehle. Fein pinseliger, detailgetreuer Realismus bei Behandlung eines historistischen, galanten Themas. Öl/Lwd. Rechts an der Wandbrüstung signiert und datiert 1875. 81 x 65 cm. (440042)
Prezzo del catalogo € 2.800 - 3.400 Prezzo del catalogo€ 2.800 - 3.400 $ 2,940 - 3,570
£ 2,520 - 3,060
元 20,524 - 24,922
₽ 184,940 - 224,570
This object has been individually compared to the information in the Art Loss Register data bank and is not registered there as stolen or missing.
Il Vostro Art Agent personale
Volete essere informati quando nelle nostre prossime aste un'opera di Carl Christian Andersen viene offerta? Attivate qui il Vostro Art Agent personale.