Ricerca Willem Koekkoek nell'asta
Dipinti XIX - XX secolo

mercoledì, 5 luglio 2017
Il Vostro Art Agent personale
Siete interessati alle opere di Willem Koekkoek?
Volentieri Vi teniamo aggiornati, quando le opere di Willem Koekkoek verranno offerte in una delle nostre prossime aste.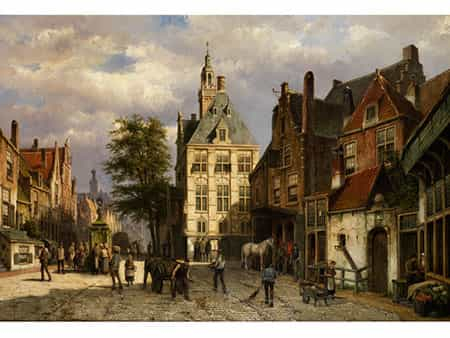 364
Willem Koekkoek,
1839 Amsterdam – 1895
STADTANSICHT Öl auf Leinwand.
86 x 125 cm.
Rechts unten auf dem Fenstersims signiert.
Prezzo del catalogo € 100.000 - 120.000 Prezzo del catalogo€ 100.000 - 120.000 $ 105,000 - 126,000
£ 90,000 - 108,000
元 733,000 - 879,600
₽ 6,605,000 - 7,926,000
Eine in die linke Tiefe ziehende Häuserzeile wird von einem Gebäude mit prachtvoller Fassade in der Flucht unterbrochen. Das Gebäude setzt leicht links mittig einen Akzent auf die fantastische Stadtansicht, bei der der Maler ein großes Augenmerk auf die unterschiedlichen Gestaltungen der Architekturen gesetzt hat. Auf der Straße tummeln sich Menschen bei der Verrichtung ihres unterschiedlichen Tagewerks, darunter beispielsweise in der unteren Bildmitte eine Schmiede mit Schimmel davor, gefolgt von Gemüsehändlern, Straßenkehrern und Frauen beim Einkauf. Das ungewöhnlich großformatige Gemälde des holländischen Künstlers Willem Koekkoek vermittelt dabei den Eindruck eines geschäftigen Sommertages in einer idealen niederländischen Stadt. (11103914) (2) (10)


Willem Koekkoek,
1839 Amsterdam – 1895

CITYSCAPE

Oil on canvas.
86 x 125 cm.
Signed below right on windowsill.

This unusually large-scale painting of the Dutch artist Willem Koekkoek gives the impression of a bustling summer's day set in an ideal Dutch city.
This object has been individually compared to the information in the Art Loss Register data bank and is not registered there as stolen or missing.
Il Vostro Art Agent personale
Volete essere informati quando nelle nostre prossime aste un'opera di Willem Koekkoek viene offerta? Attivate qui il Vostro Art Agent personale.