Vente

Tableaux du XVI - XVIII siècle
Votre assistant d'art personnel
Voulez-vous acheter un objet similaire?
Nous vous informons volontiers si des objets similaire vendus dans une de nos prochaines vente aux enchères.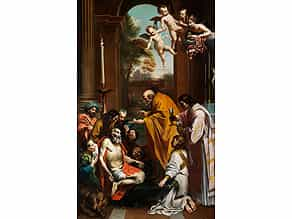 422
Italienischer Maler des 18. Jahrhunderts
nach Domenico Zampieri,
1581 – 1641
DIE LETZTE ABENDMAHLSPEISUNG DES HEILIGEN HIERONYMUS Öl auf Leinwand.
139,3 x 86 cm.
Italien, Anfang 18. Jahrhundert.
Prix de catalogue € 10.000 - 15.000 Prix de catalogue€ 10.000 - 15.000 $ 9,900 - 14,850
£ 9,000 - 13,500
元 70,200 - 105,300
₽ 607,000 - 910,500
Die Szenerie unter einem hohen Architekturbogen wiedergegeben, mit Ausblick in Landschaft mit einem höfischen Gebäude, Bäumen und Staffagefiguren. Im Vordergrund empfängt der altersschwache Heilige Hieronymus, auf dem Krankenlager in rotes Tuch gehüllt, die Kommunion durch einen Priester in Chormantel sowie einen Kooperator mit Messkelch. Rechts am Bildrand sind die Altarkerzen und das Altarkreuz zu erkennen. Links wird der gebrechliche Heilige von Begleitpersonen gestützt. In der linken Bildecke sein Attribut, der Löwe. In der oberen Bildhälfte ein Engelreigen in Wolken. (880893)
This object has been individually compared to the information in the Art Loss Register data bank and is not registered there as stolen or missing.
Votre assistant d'art personnel
Vous voulez être informé quand dans nos prochaines ventes aux enchères une œuvre d'art similaire sera proposée? Veuillez activer votre assistant d'art personnel.