Vente

Vente des beaux arts
Votre assistant d'art personnel
Voulez-vous acheter un objet similaire?
Nous vous informons volontiers si des objets similaire vendus dans une de nos prochaines vente aux enchères.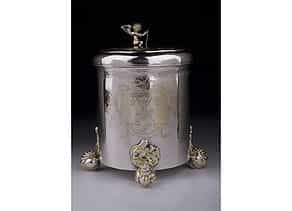 990
Großer silberner Hochzeits-Deckelhumpen
mit Datierung "1772"
Höhe: 23 cm.
Silber, außen teilvergoldet, innen ganzvergoldet.
Am Boden verschlagene rechteckige Marke, sowie Marke "ZE", ferner weiter nicht identifizierbare Punze und die gravierte Zahl "119".
Holland, um 1700, Umschriftgravur "1772".
Prix de catalogue € 18.000 - 20.000 Prix de catalogue€ 18.000 - 20.000 $ 18,900 - 21,000
£ 16,200 - 18,000
元 131,940 - 146,600
₽ 1,188,900 - 1,321,000
Glatte, zylindrische Wandung über vier Kugelfüßen
in Form von Granatäpfeln, von denen vergoldete Reliefdarstellungen der vier Evangelisten hochziehen. Der Henkel gegossen, plastisch gestaltet, mit Knorpelwerk, C-Bögen sowie mit einem hochstehenden Frauenkopf, bekrönt durch Palmettendiadem. Der Henkel unten in Form eines Fisches auslaufend, aus dessen Maul eine Figur (Jonas) hervortritt. Daumenrast in Form eines vergoldeten, geflügelten Engels, der einen Schild hält, darauf in Gravur Herz Jesu sowie Hände mit Wundmalen. Der Deckel mit abgerundetem Rand flach schließend, im Zentrum
Medaillon-Gravur mit Darstellung eines Pelikans mit seinen Jungen (christliches Symbol für Nächstenliebe), umgeben von gravierten Blüten und Blättern. Auf der glatten Wandung an der Vorderseite hochovales, graviertes Medaillon. Die Rahmung seitlich mit Fahnen bestückt, im Medaillon Kreuzdarstellung mit Arma Christi, darüber unter dem Lippenrand die
Aufschrift: "Gabriel och Petronella Maria Wickenbergar - 1772". (7006034)

This object has been individually compared to the information in the Art Loss Register data bank and is not registered there as stolen or missing.
Votre assistant d'art personnel
Vous voulez être informé quand dans nos prochaines ventes aux enchères une œuvre d'art similaire sera proposée? Veuillez activer votre assistant d'art personnel.