Vente

Meubles et Aménagements
Votre assistant d'art personnel
Voulez-vous acheter un objet similaire?
Nous vous informons volontiers si des objets similaire vendus dans une de nos prochaines vente aux enchères.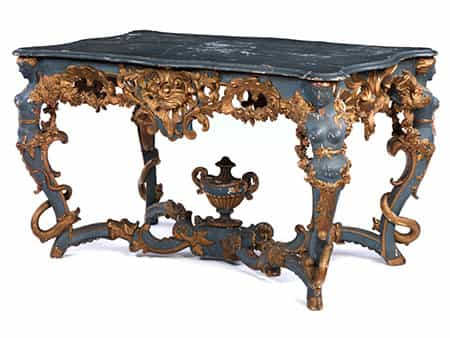 38
Große, prächtig geschnitzte Konsole
Höhe: 83 cm.
Breite: 142 cm.
Tiefe: 38 cm.
Italien, wohl 18. Jahrhundert.
Prix de catalogue € 8.500 - 9.500 Prix de catalogue€ 8.500 - 9.500 $ 9,180 - 10,260
£ 7,650 - 8,550
元 63,410 - 70,870
₽ 711,960 - 795,720
Holz, geschnitzt, blau und goldgefasst. Die vier Beine in Form von weiblichen Karyatiden auf Bocksfüßen, jeweils umschlungen von stilisiertem Delfin. Die Karyatide dekoriert mit Blattranken und Schleife um die Taille. Die Beine kreuzförmig, verbunden mit stark geschweiften und üppig beschnitzten Stegen, diese mittig besetzt von einer flachen Vase. Die geschweifte Zarge durchbrochen geschnitzt und dekoriert mit Rocaillen, Voluten, Blättern, C-Bögen und Blütengirlanden. Die Tischplatte geschweift. Fassung erneuert. Rest., besch. und starke Alterssp. (1001679) (12)

Large, magnificently carved console table
Height: 83 cm.
Width: 142 cm.
Depth: 38 cm.
Italy, probably 18th century.

Carved, blue and gilt wood. Paint renewed. Restored, damaged and heavy signs of ageing.
This object has been individually compared to the information in the Art Loss Register data bank and is not registered there as stolen or missing.
Votre assistant d'art personnel
Vous voulez être informé quand dans nos prochaines ventes aux enchères une œuvre d'art similaire sera proposée? Veuillez activer votre assistant d'art personnel.