Your search for Max Liebermann in the auction
Modern Art

Tuesday, 19 June 2012
Your personal art agent
You are interested in works by Max Liebermann?
We are happy to inform you, if works by Max Liebermann are to be auctioned in one of our upcoming auctions.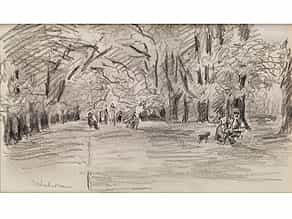 622
Max Liebermann,
1847 Berlin - 1935 Berlin
IM PARK Bleistift auf Karton.
Sichtmaß: 12,7 x 21,2 cm.
Links unten in Blei signiert.
Im Passepartout verglast und gerahmt.
Catalogue price € 2.000 - 3.000 Catalogue price€ 2.000 - 3.000 $ 2,080 - 3,120
£ 1,800 - 2,700
元 13,980 - 20,970
₽ 108,600 - 162,900
Bleistiftzeichnung mit Darstellung einer Parkallee. Rechts Parkbank mit einem sitzenden Mann in Begleitung einer Frau und einem Hündchen. Weiter im Hintergrund mehrere flanierende Personen unter gewölbeartig sich über den Weg hinziehendem Laub der Alleebäume. (860193)
Your personal art agent
You would like to be informed of upcoming auctions if a work by Max Liebermann is offered? Activate your personal art agent here.