Auction

Modern and Russian Art
Your personal art agent
You would like to purchase a similar object?
We are happy to inform you, if similar works are to be auctioned in one of our upcoming auctions.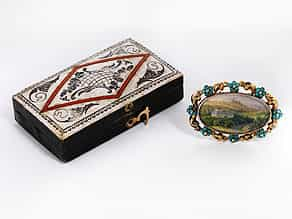 849
Schmuck-Brosche in Gold
Länge der Brosche: 5 cm. Schatullenlänge: 8 cm.
Catalogue price € 2.000 - 2.400 Catalogue price€ 2.000 - 2.400 $ 2,100 - 2,520
£ 1,800 - 2,160
元 14,660 - 17,592
₽ 132,100 - 158,520
Mit querovalem Landschaftsbild mit Darstellung des Schlosses Ratiboritz in Böhmen - rechteckiger Barockbau von Wald umgeben, mit einer Dachlaterne. Die ovale Bilddarstellung verglast, umgeben von Golddekor mit Vergissmeinnichtblüten, mit Türkisen besetzt. Die Brosche im originalen, mit Samt und Seide gefütterten, rechteckigen Etui, der Deckel weißgrundig geprägt mit Rocailledekor. Auf dem Boden alte Widmungsbeschriftung mit Datum "1842" sowie Erinnerungsnotiz an den dortigen Aufenthalt.

Provenienz:
Aus russischem Privatbesitz in Baden-Württemberg. (8110119)
Your personal art agent
You would like to be informed of upcoming auctions if a similar work of art is offered? Activate your personal art agent here.