Your search for Philipp Arons in the auction
19th - 20th Century Paintings

Friday, 3 December 2010
Your personal art agent
You are interested in works by Philipp Arons?
We are happy to inform you, if works by Philipp Arons are to be auctioned in one of our upcoming auctions.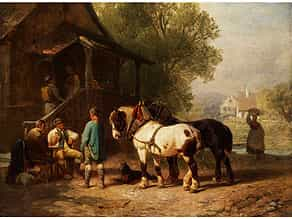 420
Philipp Arons,
1821 Berlin - 1902 Rinteln/ Weser
Schüler von Eduard Daege, Berlin, dann an der Pariser Akademie, lebte 1847 - 51 in Rom, ließ sich später in Berlin nieder.
Catalogue price € 400 - 600 Catalogue price€ 400 - 600 $ 416 - 624
£ 360 - 540
元 2,796 - 4,194
₽ 21,720 - 32,580
PFERDEFÜHRER MIT ZWEI KALTBLÜTERN IM GESPRÄCH MIT BAUERN VOR EINEM HAUS MIT TREPPENBALKON Öl auf Holz.
23 x 31,5 cm.
Unten nahezu mittig auf einem Brett signiert.

Die Pferde im Zentrum hintereinander stehend, daneben ein Hund, an der Treppe ein Wandergeselle mit Ranzen und Studentenkappe im Gespräch mit einem Hausmädchen, rechts Ausblick auf in der Sonne stehende Häusergruppe mit einer Wäsche tragenden Bäuerin. Elegante Feinmalerei mit interessanten Details. (801105)
Your personal art agent
You would like to be informed of upcoming auctions if a work by Philipp Arons is offered? Activate your personal art agent here.