Your search for Julius Adam der Jüngere in the auction
Paintings 19th - 20th Century

Friday, 26 June 2009
Your personal art agent
You are interested in works by Julius Adam der Jüngere?
We are happy to inform you, if works by Julius Adam der Jüngere are to be auctioned in one of our upcoming auctions.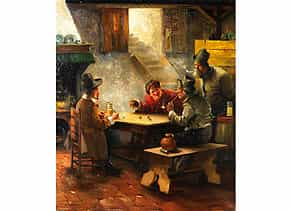 586
Julius Adam d. J.,
1852 München – 1913
BEIM WÜRFELSPIELÖl auf Leinwand.
80 x 71 cm.
Links unten signiert.
Gerahmt.
Catalogue price € 3.500 - 4.000 Catalogue price€ 3.500 - 4.000 $ 3,640 - 4,160
£ 3,150 - 3,600
元 24,465 - 27,960
₽ 190,050 - 217,200
Die Dargestellten mit Meerschaumpfeifen am Tisch vor offenem Feuer. Unter dem Einfluss seines Lehrers Wilhelm von Diez (1839-1907) entstandenes Gemälde in der Manier der alten holländischen Schule, bevor der Künstler als Tiermaler seinen Ruhm als "Katzen-Adam" festigte. (731026)
This object has been individually compared to the information in the Art Loss Register data bank and is not registered there as stolen or missing.
Your personal art agent
You would like to be informed of upcoming auctions if a work by Julius Adam der Jüngere is offered? Activate your personal art agent here.