Your search for Max Liebermann in the auction
Max Liebermann

Thursday, 22 September 2005
Your personal art agent
You are interested in works by Max Liebermann?
We are happy to inform you, if works by Max Liebermann are to be auctioned in one of our upcoming auctions.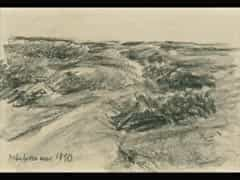 38
Max Liebermann,
1847-1935 Berlin
DÜNNENLANDSCHAFT (1890)
Catalogue price € 1.800 - 2.200 Catalogue price€ 1.800 - 2.200 $ 1,872 - 2,288
£ 1,620 - 1,980
元 12,582 - 15,378
₽ 97,740 - 119,460
Kohle auf gelblichem, leicht strukturiertem Papier aus einem Skizzenbuch
10,5 x 15,5 cm
Bez. links unten (mit Kohle):
M Liebermann 1890

DUNE LANDSCAPE (1890)

Charcoal on yellowish, lightly structured paper
from a sketchbook
4,1 x 6,1 in.
Sign. lower left (with charcoal): M Liebermann 1890

Verso:
Kohleskizze zweier Kiepenträger in den Dünen in Vorderansicht.

Zustand:
Zwischen zwei Glasscheiben eingerahmt. Verso am rechten Rand Reißspuren von der Fadenheftung, brauner Fleck am oberen Blattrand.

Provenienz:
Sammlung Hans-Georg Karg, Bad Homburg-Gut Sossau/Gräbenstatt (Ankaufsdaten fehlen).

Die Vorderseite dieses Blattes zeigt einen Weg durch die Dünen der holländischen Nordseeküste, vermutlich in der Nähe von Katwijk, wo Max Liebermann sich seit den 80er Jahren fast jeden Sommer aufhielt, um Studien vor der Natur zu machen. Der Maler soll während der ersten Tage immer nur mit Zeichenmaterialien durch die Dünen gestreift sein, um sich wieder an die Landschaft zu gewöhnen. Das vorliegende Blatt, das verso die Spuren einer Fadenheftung aufweist, stammt wohl aus einem Skizzenblock, der auf einem solchen Streifzug gefüllt wurde. Der Weg windet sich durch die scheinbar endlos weite Landschaft. Abgesehen von Sand, Dünengras und ein paar struppigen Sträuchern ist nichts anderes zu sehen. Eindeutig geht es dem Maler hier nur um die Atmosphäre dieser unspektakulären Landschaft. Mit sparsamsten Mitteln - dem Kohlestift und seinen Fingern, die den Strich verwischen - hat er den Rhythmus, das Licht, den Wind und vor allem den Raum eingefangen. Auf der Rückseite des Blattes hat Max Liebermann zwei Bauern skizziert, denen er offenbar unterwegs begegnet ist. Wahrscheinlich gehen sie zu oder kommen von den Kartoffelfeldern, die in den Dünen liegen. (5906062)
Your personal art agent
You would like to be informed of upcoming auctions if a work by Max Liebermann is offered? Activate your personal art agent here.