Auction

March Auction Part I.
Your personal art agent
You would like to purchase a similar object?
We are happy to inform you, if similar works are to be auctioned in one of our upcoming auctions.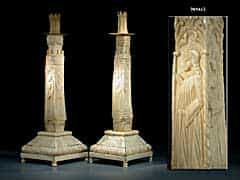 450
Paar Elfenbeinleuchter
Jeweils vierseitiger Schaft über Pyramidenstumpf auf kleinen gedrehten Füßen. Der Schaft als Turm mit Zinnen gearbeitet. Darüber Aufsatz mit oktogonalem Türmchen mit Zinnen. Die Seiten des Schaftes mir reliefierten Standfiguren-Prophetendarstellungen bzw. biblische-philosophische Gestalten jeweils zwischen gedrehten Ecksäulchen und passigen Maßwerk, Überdachungen mit Lilienblüten. Im Aufsatz überhalb der Zinnen blütenartige Voluten. Die Sockelseiten rautig reliefiert mit geometrischen Blattornamenten dazwischen Schaftbasis mit Bogendekor. Bei den Dargestellten dürfte es sich um Gelehrte, Philosophen bzw. theologische Scholastiker handeln. Die achtseitigen Tüllenaufsätze farblich leicht abweichend. Rest. Leicht besch. Gesamthöhe je: 32 cm. Italien, 16. Jhdt. (5313816)
Catalogue price € 1.200 - 1.400 Catalogue price€ 1.200 - 1.400 $ 1,260 - 1,470
£ 1,080 - 1,260
元 8,796 - 10,262
₽ 79,260 - 92,470
Your personal art agent
You would like to be informed of upcoming auctions if a similar work of art is offered? Activate your personal art agent here.