Your personal art agent
You would like to purchase a similar object?
We are happy to inform you, if similar works are to be auctioned in one of our upcoming auctions.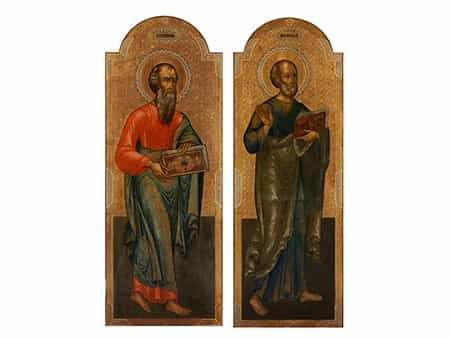 662
Paar außergewöhnlich große Ikonen
Höhe: 162 cm,
Breite: jeweils 62 cm.
Russland, 19. Jahrhundert.
Catalogue price € 38.000 - 42.000 Catalogue price€ 38.000 - 42.000 $ 37,620 - 41,580
£ 34,200 - 37,800
元 266,760 - 294,840
₽ 2,306,600 - 2,549,400
Temperamalerei auf Kreidegrund auf Goldgrund auf Holz.
Beide Tafeln mit der Darstellung eines Heiligen, jeweils das geschlossene Evangelienbuch haltend. Die Malerei sehr fein gearbeitet. Nimbus sowie Randbordüre cloisonnéartig.
Rest. und minimal besch. sowie leichte Farbabplatzungen. (1061654) (14)


A pair of exceptionally large icons
Height: 162 cm.
Width: 62 cm each.
Russia, 19th century.

Tempera on gesso with gold ground on panel.
Both panels depicting a saint. Restored and with minimal damage and minor blemishes to the paint layer.
This object has been individually compared to the information in the Art Loss Register data bank and is not registered there as stolen or missing.
Your personal art agent
You would like to be informed of upcoming auctions if a similar work of art is offered? Activate your personal art agent here.