Il Vostro Art Agent personale
Volete acquistare un oggetto simile?
Volentieri Vi teniamo aggiornati, quando opere simili verranno offerte in una delle nostre prossime aste.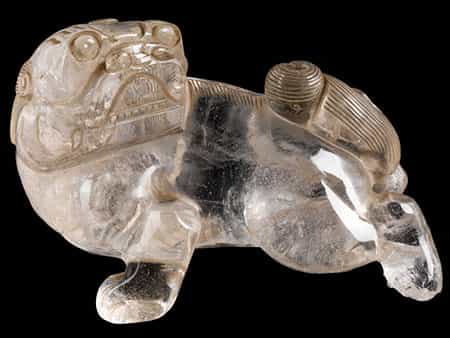 508
Löwe in Bergkristall
Höhe: 5,5 cm.
Länge: 8,5 cm.
Höhe des Sockels: 3 cm.
China, Ming-Dynastie.
Prezzo del catalogo € 3.000 - 4.000 Prezzo del catalogo€ 3.000 - 4.000 $ 3,270 - 4,360
£ 2,700 - 3,600
元 23,730 - 31,640
₽ 284,850 - 379,800
Nach links stehend, der Kopf umgewandt, der Schwanz in zwei großen Haarlocken zum Rücken heraufziehend. Auf angepasstem Holzsockel. Eine Pfotenunterseite abgebrochen. (9812014) (11)
This object has been individually compared to the information in the Art Loss Register data bank and is not registered there as stolen or missing.
Il Vostro Art Agent personale
Volete essere informati quando nelle nostre prossime aste un'opera d'arte simile viene offerta? Attivate qui il Vostro Art Agent personale.