Il Vostro Art Agent personale
Volete acquistare un oggetto simile?
Volentieri Vi teniamo aggiornati, quando opere simili verranno offerte in una delle nostre prossime aste.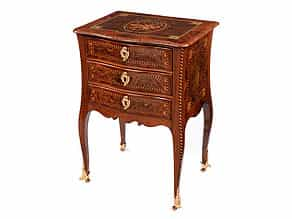 79
Kleine Kommode
Höhe: 72 cm.
Breite: 47 cm.
Tiefe: 40 cm.
18. Jahrhundert.
Prezzo del catalogo € 9.000 - 12.000 Prezzo del catalogo€ 9.000 - 12.000 $ 9,720 - 12,960
£ 8,100 - 10,800
元 67,140 - 89,520
₽ 753,840 - 1,005,120
Elegant geschwungene Beine mit aufwändig gearbeiteten, vergoldeten Sabots. Die Kommode geschweift, mit drei übereinander angeordneten Schubladen mit Wurzelfurnier und Bandintarsien. Schlösser und ein Schlüssel vorhanden. Die obere Schublade gearbeitet als kleine Schreibschublade mit Lederabdeckung und Goldprägung, seitlich Fächer zum Einsetzen von Tinte und Sand. Die Platte nach oben hin reich dekoriert mit Musikinstrumentenmarketerie aus gefärbten Hölzern. (881843)
This object has been individually compared to the information in the Art Loss Register data bank and is not registered there as stolen or missing.
Il Vostro Art Agent personale
Volete essere informati quando nelle nostre prossime aste un'opera d'arte simile viene offerta? Attivate qui il Vostro Art Agent personale.