Aste

Sculture ed Artigianato
Il Vostro Art Agent personale
Volete acquistare un oggetto simile?
Volentieri Vi teniamo aggiornati, quando opere simili verranno offerte in una delle nostre prossime aste.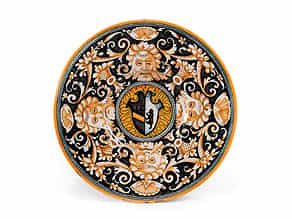 508
Majolikaplatte
Durchmesser: 24 cm.
Faenza, erste Hälfte 16. Jahrhundert.
Prezzo del catalogo € 45.000 - 50.000 Prezzo del catalogo€ 45.000 - 50.000 $ 48,600 - 54,000
£ 40,500 - 45,000
元 335,700 - 373,000
₽ 3,769,200 - 4,188,000
Kleiner, vertiefter Spiegel, bemalt mit einem Wappen, die breite Fahne mit symmetrischer Groteskenmalerei, dekoriert mit vier männlichen Köpfen, die sich aus Blättern entwickeln. Dazwischen Fruchtkorb und Muschelmotive. Grundbemalung in Kobaltblau. Die Dekoration in Gelb, Hellblau, Grün und überwiegend Beige. Außenrand in Orange. Unterseite ebenfalls bemalt mit geometrischem Dekor in drei Farben.

Provenienz:
Kollektion Carlo de Carlo. (871341)


Majolica Plate
Diameter: 24 cm.
Faenza, first half of the 16th century.
Provenance: the collection of Carlo de Carlo
This object has been individually compared to the information in the Art Loss Register data bank and is not registered there as stolen or missing.
Il Vostro Art Agent personale
Volete essere informati quando nelle nostre prossime aste un'opera d'arte simile viene offerta? Attivate qui il Vostro Art Agent personale.