Ricerca Adolphe Alexandre Lesrel nell'asta
Dipinti XIX - XX secolo

martedì, 19 giugno 2012
Il Vostro Art Agent personale
Siete interessati alle opere di Adolphe Alexandre Lesrel?
Volentieri Vi teniamo aggiornati, quando le opere di Adolphe Alexandre Lesrel verranno offerte in una delle nostre prossime aste.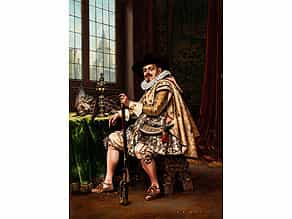 448
† Adolphe Alexandre Lesrel,
1839 - 1929
ADLIGER IN HERRSCHAFTLICHEM SALON NACH DER JAGD Öl auf Holz.
33,5 x 24 cm.
Rechts unten signiert und datiert "1906".
Prezzo del catalogo € 12.000 - 15.000 Prezzo del catalogo€ 12.000 - 15.000 $ 12,960 - 16,200
£ 10,800 - 13,500
元 89,520 - 111,900
₽ 1,005,120 - 1,256,400
Ein prächtig in seidenem, goldbesticktem Jagdkostüm des 17. Jahrhunderts auf einem Wangenstuhl sitzender, nobler Herr mit schwarzem, breitkrempeligem Hut, geschultertem Jagdhorn und einer Jagdflinte in der linken Hand, an einem Tisch mit grüner Samtdecke sitzend, darauf stillebenhaft abgestellt ein Ananaspokal, dahinter der soeben erlegte Jagdvogel, unter einem Fenster mit Ausblick auf Burgtürme. Rechts im Hintergrund ein Wandgobelin, überhangen von einem roten Velum. Akribische Feinmalerei mit schöner Lichtauffassung. (8612520)
This object has been individually compared to the information in the Art Loss Register data bank and is not registered there as stolen or missing.
Il Vostro Art Agent personale
Volete essere informati quando nelle nostre prossime aste un'opera di Adolphe Alexandre Lesrel viene offerta? Attivate qui il Vostro Art Agent personale.