Il Vostro Art Agent personale
Volete acquistare un oggetto simile?
Volentieri Vi teniamo aggiornati, quando opere simili verranno offerte in una delle nostre prossime aste.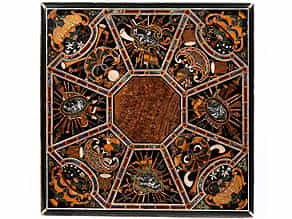 12
Bedeutende Renaissance-Pietra Dura-Platte aus der Werkstatt des Jacopo Flach
Höhe: 62 cm.
Breite: 62 cm.
Florenz, frühes 17. Jahrhundert.
Prezzo del catalogo € 55.000 - 60.000 Prezzo del catalogo€ 55.000 - 60.000 $ 57,750 - 63,000
£ 49,500 - 54,000
元 422,400 - 460,800
₽ 5,606,700 - 6,116,400
Quadratische Marmorplatte akurat und mannigfach mit rotem, gelbem und grünem Marmor, Lapislazuli, Porphyr u.a. in geometrischer Form von Blumen, Vasen, Wappen u.v.a. marketiert. Leichte Alterssp.


Literatur:
A. Giusti, Splendori di Pietre Dure, L'Arte di corte nella Firenze dei Granduchi, Ausstellungskatalog, Florenz, 1988, S. 150f.
A. Gonzales-Palacios, Las Colleccions reales Espanolas de Mosaicos y Piedras Duras, Madrid, Prado Nationalmuseum, 2001, S. 85, Inv. No. O-501. (860442)


An Important, Renaissance Pietra Dura Plate from Workshop of Jacopo Flach
Height: 62 cm.
Width: 62 cm.
Florence, early 17th century.
This object has been individually compared to the information in the Art Loss Register data bank and is not registered there as stolen or missing.
Il Vostro Art Agent personale
Volete essere informati quando nelle nostre prossime aste un'opera d'arte simile viene offerta? Attivate qui il Vostro Art Agent personale.