Il Vostro Art Agent personale
Volete acquistare un oggetto simile?
Volentieri Vi teniamo aggiornati, quando opere simili verranno offerte in una delle nostre prossime aste.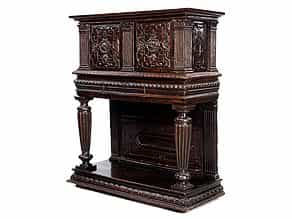 16
Seltenes Renaissance-Möbel
Höhe: 194 cm.
Breite: 110 cm.
Tiefe: 51 cm.
Frankreich/ Lyon, zweite Hälfte 16. Jahrhundert.
Prezzo del catalogo € 25.000 - 30.000 Prezzo del catalogo€ 25.000 - 30.000 $ 27,000 - 32,400
£ 22,500 - 27,000
元 186,500 - 223,800
₽ 2,094,000 - 2,512,800
Dressoir, ausgeführt in massivem Nussbaum und Eiche, dunkel gebeizt, der Aufbau zweiteilig, Unterbau mit querrechteckigem Sockel, die Sockelzargen stilisiert, floral reliefbeschnitzt, mit Palmetten-Stabfries, darauf in der Front zwei godronierte, kräftige Säulen und Beine sowie eingezogene, obere Abschlüsse mit quadratischen Kapitellplatten. Die Rückwand geschlossen, seitlich flankiert von kannelierten Pilastern, im Mittelfeld geometrisch stilisierte Kassettendekoration mit Bändern, die in den Ecken mäandriert sich überschneiden sowie mit länglichem, leicht vertieftem Ovalmotiv. Der Aufsatz mit zwei Frontschüben, die in die gewölbte, mit Eierstab beschnitzte Zarge eingeschnitten sind, darüber zweitüriger Kasten, an den Ecken besetzt mit breiten, die Ecken umziehenden, kannelierten Pfeilern mit Blattkapitellen. Die Türen mit reicher Kassettenschnitzerei, darin sich überschneidende Bandwerkformen, je um eine zentrale, querliegende, ovale Rosette, an den Seiten Rollwerkdekoration in der Kassettenvertiefung sowie Wiederholung des Pilastermotivs. Gerader Abschluss mit weit vorkragender Abschlussgesimsplatte, zwischen den Türen kannelierte Pilaster, die den Eckpilastern entsprechen, an den Schüben hängende Zuggriffe in Bronze. In gutem Zustand. Rest., erg. (860401)


A Rare Piece of Renaissance Furniture
Height: 194 cm.
Width: 110 cm.
Depth: 51 cm.
This object has been individually compared to the information in the Art Loss Register data bank and is not registered there as stolen or missing.
Il Vostro Art Agent personale
Volete essere informati quando nelle nostre prossime aste un'opera d'arte simile viene offerta? Attivate qui il Vostro Art Agent personale.