Aste

Dipinti XVI - XVIII secolo
Il Vostro Art Agent personale
Volete acquistare un oggetto simile?
Volentieri Vi teniamo aggiornati, quando opere simili verranno offerte in una delle nostre prossime aste.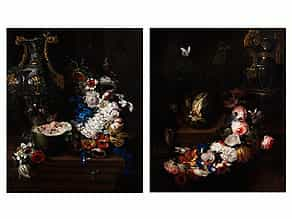 218
Maler der Französischen Schule des beginnenden 18. Jahrhunderts
Gemäldepaar
BLUMENSTILLEBEN MIT MELONE UND GROSSER PRUNKVASE
sowie
STILLEBEN MIT BLUMENKRANZ UM EINE MELONE MIT RECHTS STEHENDER PRUNKVASE
Prezzo del catalogo € 90.000 - 100.000 Prezzo del catalogo€ 90.000 - 100.000 $ 97,200 - 108,000
£ 81,000 - 90,000
元 671,400 - 746,000
₽ 7,538,400 - 8,376,000
Öl auf Leinwand.
85 x 71 cm.
Die zugehörigen Rahmen marmoriert, an den Ecken beschnitzt mit Akanthusblättern in Vergoldung.

Die beiden Stilleben als Gegenstücke gearbeitet, wonach die Prunkvasen jeweils in der rechten bzw. in der linken oberen Partie einkomponiert sind. Die Gegenstände annähernd themengleich, so ist in einem der Gemälde die Melone geöffnet, im Gegenstück im Ganzen dargestellt, die Blumenkränze in Gegenbewegung C-bogig an die Steinbrüstung gelegt. Vor dunklem Untergrund scheinen die Blüten auf, im zweitgenannten Gemälde ein weißer Schmetterling vor dunklem Hintergrund. Die beiden Vasen in metallenem Glanzlicht, jeweils in dunkel oxidiertem Silber mit Goldauflage, die Henkel geschweift mit Voluten und Maskendekoration. (8514032)


Painter of the French School
of the Early 18th Century
Oil on Canvas.
85 x 71 cm.
This object has been individually compared to the information in the Art Loss Register data bank and is not registered there as stolen or missing.
Il Vostro Art Agent personale
Volete essere informati quando nelle nostre prossime aste un'opera d'arte simile viene offerta? Attivate qui il Vostro Art Agent personale.