Aste

Una collezione privata di oggetti di avorio
Il Vostro Art Agent personale
Volete acquistare un oggetto simile?
Volentieri Vi teniamo aggiornati, quando opere simili verranno offerte in una delle nostre prossime aste.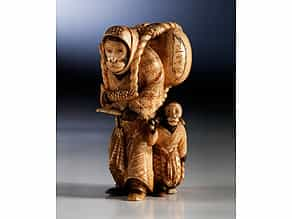 1014
Affen in Gewändern
Höhe: 9,3 cm.
Auf der Rückseite des größten Schädels in unregelmäßiger Kartusche signiert.
Japan, 19. Jahrhundert.
Prezzo del catalogo € 4.000 - 6.000 Prezzo del catalogo€ 4.000 - 6.000 $ 4,200 - 6,300
£ 3,600 - 5,400
元 30,720 - 46,080
₽ 407,760 - 611,640
Hirschhorn. Sehr seltene Darstellung einer Frau mit Kind als Affen. Die Frau mit Maiskolben den Jungen fütternd. Beide Totenköpfe tragend, die durch Stränge zusammengehalten werden. Ein bekleidetes Skelett die beiden begleitend und den Betrachter aus den leeren Augenhöhlen anblickend. Ein Schuh erg., ein Fuß besch. (8018633)
This object has been individually compared to the information in the Art Loss Register data bank and is not registered there as stolen or missing.
Il Vostro Art Agent personale
Volete essere informati quando nelle nostre prossime aste un'opera d'arte simile viene offerta? Attivate qui il Vostro Art Agent personale.