Ricerca Adrianus Johannes Ehnle nell'asta
Dipinti XIX - XX secolo

venerdì, 3 dicembre 2010
Il Vostro Art Agent personale
Siete interessati alle opere di Adrianus Johannes Ehnle?
Volentieri Vi teniamo aggiornati, quando le opere di Adrianus Johannes Ehnle verranno offerte in una delle nostre prossime aste.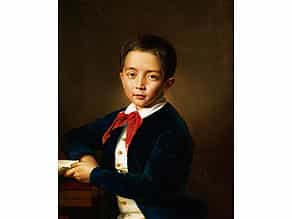 555
Adrianus Johannes Ehnle,
1819 Den Haag, bereiste 1839 Italien, ließ sich ab 1848 in Harlem nieder.
Maler von Historiengemälden und Portraits. Gemälde seiner Hand im Amsterdamer Rijksprentenkabinet, Gemeindemuseum Den Haag, Harlem, Frans-Hals Museum, Rotterdam, Boijmans van Beuningen Museum und weiteren öffentlichen Sammlungen.
Prezzo del catalogo € 5.000 - 6.000 Prezzo del catalogo€ 5.000 - 6.000 $ 5,400 - 6,480
£ 4,500 - 5,400
元 37,300 - 44,760
₽ 418,800 - 502,560
PORTRAIT EINES KNABEN MIT BUCH AM TISCH Öl auf Leinwand. Doubliert.
66 x 52,5 cm.
Links oben signiert und datiert "1850".

Halbbildnis mit Körperhaltung nach links. Der Knabe trägt einen türkis-blauen Rock, eine weiße Weste mit Goldknöpfen und eine rote Schleife. (8012510)


Adrianus Johannes Ehnle,
Den Haag 1819 - 1863
Oil on canvas, relined.
66 x 52.5 cm.
Signed and dated at the upper left "1850".
This object has been individually compared to the information in the Art Loss Register data bank and is not registered there as stolen or missing.
Il Vostro Art Agent personale
Volete essere informati quando nelle nostre prossime aste un'opera di Adrianus Johannes Ehnle viene offerta? Attivate qui il Vostro Art Agent personale.