Aste

Inventari di castelli
Il Vostro Art Agent personale
Volete acquistare un oggetto simile?
Volentieri Vi teniamo aggiornati, quando opere simili verranno offerte in una delle nostre prossime aste.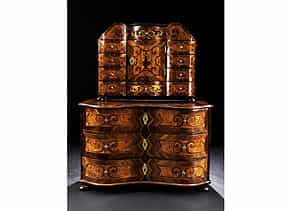 8
Barocke Tabernakelaufsatzkommode
Höhe: 158 cm.
Breite: 120 cm.
Tiefe: 68 cm.
Erste Hälfte 18. Jahrhundert.
Prezzo del catalogo € 6.000 - 8.000 Prezzo del catalogo€ 6.000 - 8.000 $ 5,940 - 7,920
£ 5,400 - 7,200
元 42,120 - 56,160
₽ 364,200 - 485,600
Zweiteilig. Der Unterbau eine dreischübige Kommode, der Aufsatz mit mittlerer Tabernakeltüre und darunterliegendem Schub, flankiert von jeweils vier S-förmig nach hinten abschweifenden, kleineren Schüben. Bekrönung durch seitlich hochziehende Volutenblenden mit dazwischen liegendem Schub. Einheitliches Furnierbild mit Bandwerkmarketerie auf dunklem bis mittelbraunem Nussholzfurnier. Die felderbildenden, breiten Bandeinlagen in den Kassettenfeldern in Voluten einrollend und reich verschlungen. Jeweils zwei hellere, gerahmte Felder auf den Schüben, Feldinnenflächen in hellem Vogelaugenahorn belegt, worauf die mittelbraunen, breiten Bandeinlagen wirkungsvoll zur Geltung kommen. Die Kommodenfront reich bewegt: Mittig konkav einziehend, an den Zugknäufen stark konvex vortretend. Das Bodenprofil über gequetschten Kugelfüßen. Die Kommodendeckplatte entsprechend reich mit Bandwerkdekoration intarsiert. Das Aufsatzkästchen ebenfalls mit gequetschten Kugelfüßen. Die Schübe mit entsprechenden, sich überschlingenden Bandwerkeinlagen, in der Mitteltüre intarsierte, stilisierte Vase mit Blumen auf hellem Feld zwischen volutierendem Bandwerk. Kleine Schübe mit Zentralverriegelung, vom Tabernakelinneren bedienbar. Schöne, getriebene Schlüsselbeschläge, ebenfalls in Bandwerkformen, die Zughenkel in Form von Rundknäufen in Messing. Die originalen Kastenschlösser in Eisen mit zugehörigem Schlüssel erhalten. (731896)
This object has been individually compared to the information in the Art Loss Register data bank and is not registered there as stolen or missing.
Il Vostro Art Agent personale
Volete essere informati quando nelle nostre prossime aste un'opera d'arte simile viene offerta? Attivate qui il Vostro Art Agent personale.