Ricerca kaminuhr nell'asta
Mobili ed arredi

venerdì, 4 aprile 2008
Il Vostro Art Agent personale
Volete acquistare un oggetto simile?
Volentieri Vi teniamo aggiornati, quando opere simili verranno offerte in una delle nostre prossime aste.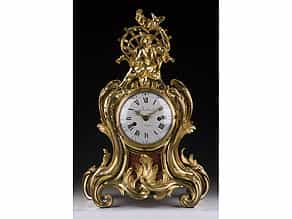 330
Vergoldete Bronze-Kaminuhr mit Chinoiserie
Höhe: 51 cm.
Breite: 30 cm.
Tiefe: 16,5 cm.
18. Jahrhundert.
Prezzo del catalogo € 22.000 - 25.000 Prezzo del catalogo€ 22.000 - 25.000 $ 21,780 - 24,750
£ 19,800 - 22,500
元 154,440 - 175,500
₽ 1,335,400 - 1,517,500
Aufbau in Form einer amorphen Rocaille, die im unteren Bereich tailliert ist, nach oben sich weitet und das Gehäuse mit dem Frontziffernblatt trägt. Die Füße in Form von ausschwingenden Rocaillevoluten, dazwischen Gitterwerk und C-bogig aufgeführte Blätter. Das Uhrwerk umspielt von hochschwingenden Blättern und Rocailleformen, Bekrönung von einem in einem Rocaillegitterwerk-Pavillon sitzenden Chinesen mit Sonnenhut und Sonnenschirm. Bronze, vergoldet. (691751)

This object has been individually compared to the information in the Art Loss Register data bank and is not registered there as stolen or missing.
Il Vostro Art Agent personale
Volete essere informati quando nelle nostre prossime aste un'opera d'arte simile viene offerta? Attivate qui il Vostro Art Agent personale.