Aste

Asta generale di oggetti d'arte
Il Vostro Art Agent personale
Volete acquistare un oggetto simile?
Volentieri Vi teniamo aggiornati, quando opere simili verranno offerte in una delle nostre prossime aste.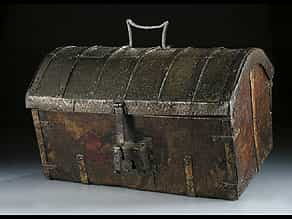 37
Große italienische Schatulle in Truhenform
Rechteckiger Tonkasten mit gewölbtem Deckel. Über den Deckel sieben Bänder gezogen, das mittlere Band in die Schlempe einziehend. Auf dem Deckel beweglicher Henkel, kantig geschmiedet. An der Front aufgesetztes Schloss mit seitlichen, geschweiften Sägeornamenten. Die Kanten mit eisernen Eckbeschlägen versehen. Allseitig mit gepunztem und bemaltem Leder bezogen, das Leder weitgehend mit Vergoldung. In der Front sichtbar zwei Putten neben dem zentralem Schloss. Auf der Deckelinnenseite das geprägte Leder noch in tadellosem Zustand erhalten, mit grotesken Fabelwesen, im Zentrum ein Putto mit Vogel und Lilien stehend dargestellt. Innenauskleidung mit altem, durch Holzschnitt bedrucktem Papier, alt koloriert, mit Darstellung von Lilienblüten sowie Holzschnitt der Heiligen Familie.
Prezzo del catalogo € 3.500 - 4.500 Prezzo del catalogo€ 3.500 - 4.500 $ 3,780 - 4,860
£ 3,150 - 4,050
元 26,110 - 33,570
₽ 293,160 - 376,920
Höhe: 25 cm. Breite: 42 cm. Tiefe: 23 cm.
Italien, 17. Jahrhundert.
(6825849)
This object has been individually compared to the information in the Art Loss Register data bank and is not registered there as stolen or missing.
Il Vostro Art Agent personale
Volete essere informati quando nelle nostre prossime aste un'opera d'arte simile viene offerta? Attivate qui il Vostro Art Agent personale.