Il Vostro Art Agent personale
Volete acquistare un oggetto simile?
Volentieri Vi teniamo aggiornati, quando opere simili verranno offerte in una delle nostre prossime aste.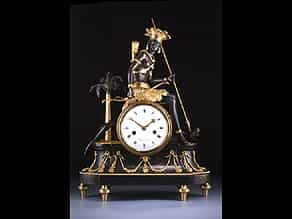 1323
Kaminuhr im Louis XVI-Stil
Figürlich gestaltet "Le bon nègre"
GEHÄUSE
Ausführung in feuervergoldeter und braun bzw. schwarz patinierter Bronze. Länglicher, nach oben sich verjüngender Sockel auf sechs hohen, vergoldeten Voluten. Am Sockel feine Applikationsdekoration in Form von Blüten- und Fruchtfestons. Auf dem Sockel das Gehäuse in Form eines liegenden Zylinders, darauf sitzend ein Afrikaner im Federkleid mit Federkrone, in den Händen Lanze und Bogen. Um den Uhrenkasten gelegt ein krokodilartiges Ungeheuer. Ohrgehänge der Afrikanerin in Form von tropfenfömigen Perlen.
Prezzo del catalogo € 6.000 - 8.000 Prezzo del catalogo€ 6.000 - 8.000 $ 5,940 - 7,920
£ 5,400 - 7,200
元 42,120 - 56,160
₽ 364,200 - 485,600
ZIFFERBLATT
Emailzifferblatt mit römischen Ziffern, über der "6" Signatur "Fervez à Paris".





WERK
Achttage-Gehwerk. Pendel mit Fadenaufhängung. Halbstunden- und Stundenschlossscheibenschlagwerk auf Glocke. Stunden- und Minutenzeiger aus Bronze, vergoldet.

ZUSTAND
Gut.

Höhe: 46 cm. Breite: 37 cm.
Tiefe : 15 cm.
Werk: Frankreich, 19. Jahrhundert, Gehäuse später.

Literatur:
Tardy, Dictionnaire, S. 225.
(682734)
This object has been individually compared to the information in the Art Loss Register data bank and is not registered there as stolen or missing.
Il Vostro Art Agent personale
Volete essere informati quando nelle nostre prossime aste un'opera d'arte simile viene offerta? Attivate qui il Vostro Art Agent personale.