Il Vostro Art Agent personale
Volete acquistare un oggetto simile?
Volentieri Vi teniamo aggiornati, quando opere simili verranno offerte in una delle nostre prossime aste.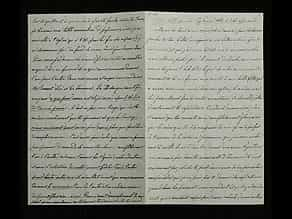 272
Brief Nr. 46 der Korrespondenz des Zaren Alexander II. von Russland an Ekaterina Dolorukaya
(der späteren Prinzessin Jurjewskaya)
in französischer Sprache.

Doppelbogen mit Einlegeblatt, 6 Seiten, Interessanter Brief. Datiert 17. bzw. 29. II. 1868 "à 3 1/3 h. après midi." Beginnend: "Merci de tout mon coer. pour les bonnes paroles de ton billet . une visite à ma belle fille (Schwiegertochter, mit dem 1918 ermordeten Zaren Nikolaus II. in der Hoffnung). le médecin ne lui permettant pas de sortir en voiture."
Auf Seite 3 Erinnerung an das schreckliche Ereignis während der Flitterwochen in Paris, als der Zar in Begleitung von Katja einem Attentat entging. Der Zar bewohnte das Palais Elysée, die Prinzessin war in einem diskreten Hotel, in der rue Basse du Rempart eingemietet. Durch eine Gartentüre kam die Prinzessin jeweils abends zu ihm: ".ta jolie robe bleue, qui me rappèle l'heureuse époque de Paris" (en 1867).
Die Seite 5 ist datiert 18. Febr./ 1. März. (671945)
Prezzo del catalogo € 8.600 - 10.000 Prezzo del catalogo€ 8.600 - 10.000 $ 9,288 - 10,800
£ 7,740 - 9,000
元 64,156 - 74,600
₽ 720,336 - 837,600
This object has been individually compared to the information in the Art Loss Register data bank and is not registered there as stolen or missing.
Il Vostro Art Agent personale
Volete essere informati quando nelle nostre prossime aste un'opera d'arte simile viene offerta? Attivate qui il Vostro Art Agent personale.