Il Vostro Art Agent personale
Volete acquistare un oggetto simile?
Volentieri Vi teniamo aggiornati, quando opere simili verranno offerte in una delle nostre prossime aste.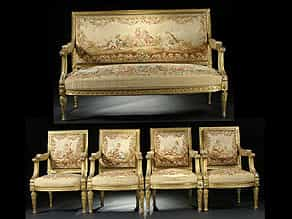 61
Salon-Sitzgarnitur

Bestehend aus Sitzbank und vier Armlehnsesseln. Elegante, aufwendige Schnitzarbeit. Die Rahmen jeweils vollvergoldet und mit Gobelinbezügen. Lehnenrahmen gerade verlaufend mit zartem Medaillonfries und Perlstabdekoration. Armlehnen mit kurzen Polsterstücken, übereinschwingenden Stützen mit Akanthusblattdekor. Die Beine jeweils balusterförmig, kanneliert und nach unten sich verjüngend mit herabhängenden reliefgeschnitzten Akanthusblättern und unten abschließendem Nodus. Die Aubusson-/Gobelinbezüge maßgerecht dekoriert. In der Banklehne kindliche Schäferszene. Im Sitz stilllebenhaft arrangierte Musikinstrumente mit Pappen und Vögeln. Die Rücklehnen und Sitzpolster der Stühle entsprechend mit den figür-
Prezzo del catalogo € 45.000 - 50.000 Prezzo del catalogo€ 45.000 - 50.000 $ 48,600 - 54,000
£ 40,500 - 45,000
元 335,700 - 373,000
₽ 3,769,200 - 4,188,000

lichen Szenen, jeweils kindliche Schäfer mit Hündchen oder Blumenkorb in Landschaft auf Rasenstücken. Nach Vorbildern von Boucher. In den Sitzen jeweils Blumenkörbe, Amorpfeil und Köcher. Trotz des Alters sehr gute, gepflegte Erhaltung.

Höhe der Bank: 104 cm.
Länge: 150 cm.
Tiefe: max. 64 cm.
Lehnenhöhe der Sessel: 100 cm.
Frankreich, 18. Jahrhundert.
(670851)
This object has been individually compared to the information in the Art Loss Register data bank and is not registered there as stolen or missing.
Il Vostro Art Agent personale
Volete essere informati quando nelle nostre prossime aste un'opera d'arte simile viene offerta? Attivate qui il Vostro Art Agent personale.