Il Vostro Art Agent personale
Volete acquistare un oggetto simile?
Volentieri Vi teniamo aggiornati, quando opere simili verranno offerte in una delle nostre prossime aste.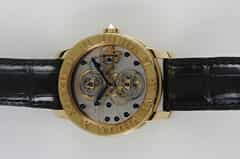 1543
CORUM
HERRENARMBANDUHR MODELL "TOURBILLON SAPHIR" LIMITIERTE AUFLAGE: Nr. 10 / 25REF.: 372.551.55 TOURBILLON. ALLE BRÜCKEN UND GLOBEN GÄNZLICH AUS SAPHIRGLAS GEFERTIGT 18 KARAT GOLD WERK Manueller Aufzug, Sperrrad mit Wolfszahnverzahnung, Federhaus skelettiert, so dass der Aufzug sichtbar ist. 18-steiniges Werk mit Ein-Minuten-Tourbillon, Glucydur-Schraubenunruh mit Flachspirale und Rückerzeiger. Alle Brücken und Globen aus Saphirglas und gebläuten Stahlschrauben, alle Räder radial ausgeschenkelt, so dass die Uhr dadurch auf das Maximale skelettiert ist. FUNKTIONEN Stunden- und Minutenzeiger aus gebläutem Stahl. Das Tourbillon über der "6" fungiert als Sekundenzeiger. GEHÄUSE 18 Karat Gold, dreiteilig, Rückseite bez. "Saphire Tourbillon, Limited Edition 18 K 372.551.55 1215436". Krone mit Diamantbesatz. Oberer Glasrand mit 12 erhabenen römischen Ziffern. ZIFFERBLATT Ohne Zifferblatt. BAND Schwarzes Original-Reptillederband mit 18-karätigem Weißgold-Klappverschluss. ZUSTANDNeuwertig. D.: 40 mm. Schweiz, um 2000. ZUSATZ Mit originalem Etui, Beschreibung und Garantiescheinen. (631502)Neupreis: Euro 136.680,-
Prezzo del catalogo € 72.000 - 86.000 Prezzo del catalogo€ 72.000 - 86.000 $ 77,760 - 92,880
£ 64,800 - 77,400
元 537,120 - 641,560
₽ 6,030,720 - 7,203,360
This object has been individually compared to the information in the Art Loss Register data bank and is not registered there as stolen or missing.
Il Vostro Art Agent personale
Volete essere informati quando nelle nostre prossime aste un'opera d'arte simile viene offerta? Attivate qui il Vostro Art Agent personale.