Il Vostro Art Agent personale
Volete acquistare un oggetto simile?
Volentieri Vi teniamo aggiornati, quando opere simili verranno offerte in una delle nostre prossime aste.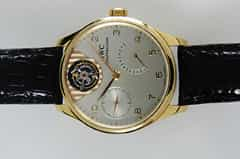 1542
IWC SCHAFFHAUSEN
HERRENARMBANDUHR PORTUGIESER TOURBILLON MYSTÈRE REF.: 504202 18 KARAT ROTGOLD WERK Handaufzug, 44-steiniges Werk, in fünf Positionen reguliert. Fliegend gelagertes Minutentourbillon: Pellaton-Aufzugsautomatik: Gangreserve theoretisch 8 1/2 Tage, mechanisch auf 7 Tage begrenzt. Glucydur-Schraubenunruh, gebläute Breguet-Spirale mit Rückerzeiger und Stoßsicherung. Ein-Minuten-Umlauf fungiert als Sekundenzeiger. FUNKTIONEN Stunde, Minute, kleine Sekunde, Gangreservenanzeige. Anstelle der "12" sichtbares Tourbillon mit Glucydur-Unruh und Stoßsicherung, fliegend gelagert. GEHÄUSE 18 Karat Rotgold, oben und unten mit Saphirglas, Boden sechsfach verschraubt. Limitierte Auflage von 250 Stück: Nummer "17 / 250". ZIFFERBLATT Versilbertes Zifferblatt mit aufgelegten Goldziffern. Bei der "12" Sektor für sichtbares Tourbillon, zwischen "4" und "5" Sektor für Sieben-Tage-Gangreserve, bei der "9" Hilfsblatt für den Sekundenzeiger. BAND Schwarzes Original-Reptillederband mit 18-karätiger Faltschließe. ZUSTANDNeuwertig. D.: 44,2 mm. Schweiz, um 2000. ZUSATZ Mit originalem Etui und Papieren. (631501)Neupreis: Euro 79.500,-
Prezzo del catalogo € 42.000 - 50.000 Prezzo del catalogo€ 42.000 - 50.000 $ 44,100 - 52,500
£ 37,800 - 45,000
元 307,860 - 366,500
₽ 2,774,100 - 3,302,500
This object has been individually compared to the information in the Art Loss Register data bank and is not registered there as stolen or missing.
Il Vostro Art Agent personale
Volete essere informati quando nelle nostre prossime aste un'opera d'arte simile viene offerta? Attivate qui il Vostro Art Agent personale.